CRSP – celebrating 40 years of Social Policy research
As the Centre for Research in Social Policy turns 40, we celebrate its many achievements and continued success in leading the way in defining dignified living standards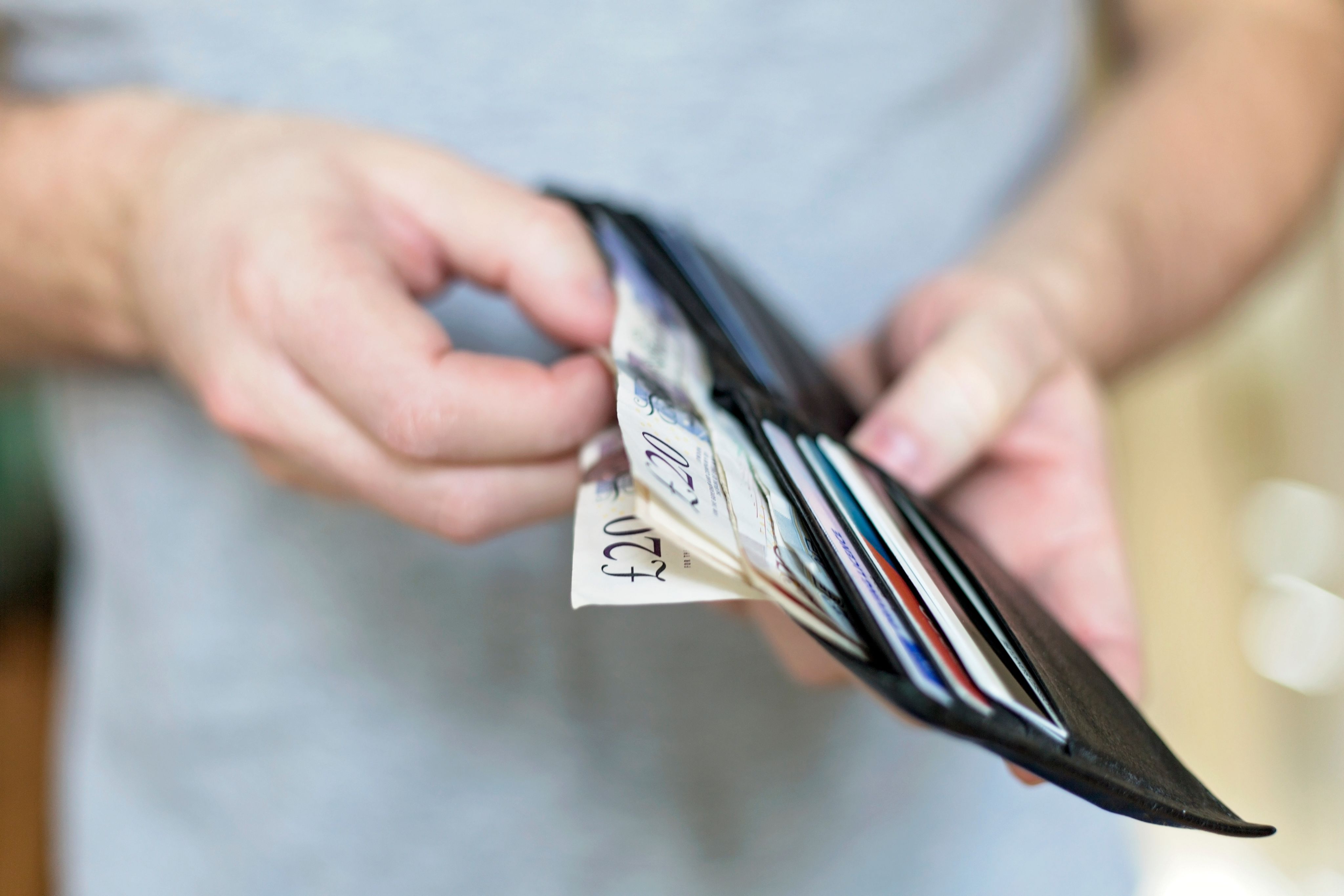 The University's Centre for Research in Social Policy (CRSP) turns 40 this year. For the past four decades, the Centre's social policy researchers have collaborated with a range of partners, making a difference to the lives of millions of people – helping them to live in dignity.
CRSP has built an international reputation for high-quality work on a range of issues, including the influential Minimum Income Standard (MIS).
Funded by the Joseph Rowntree Foundation (JRF), MIS is used to set the Real Living Wage in the UK, underpins the Retirement Living Standards (RLS), and is used by a variety of organisations to tackle issues around poverty, living standards and income adequacy.
Since 2008, MIS has been updated annually and the approach has been replicated internationally to establish benchmarks for acceptable household income levels in other countries.
In the midst of an ongoing cost-of-living crisis, with so many households struggling to meet their needs, CRSP's work has never been more vital.
A brief history of CRSP
"I started CRSP at a time of great challenge... However, I could see the longer-term benefits of a commitment to research, so had the conviction to keep pushing. It was a survival strategy that became a success story – and has now become a superb institution!"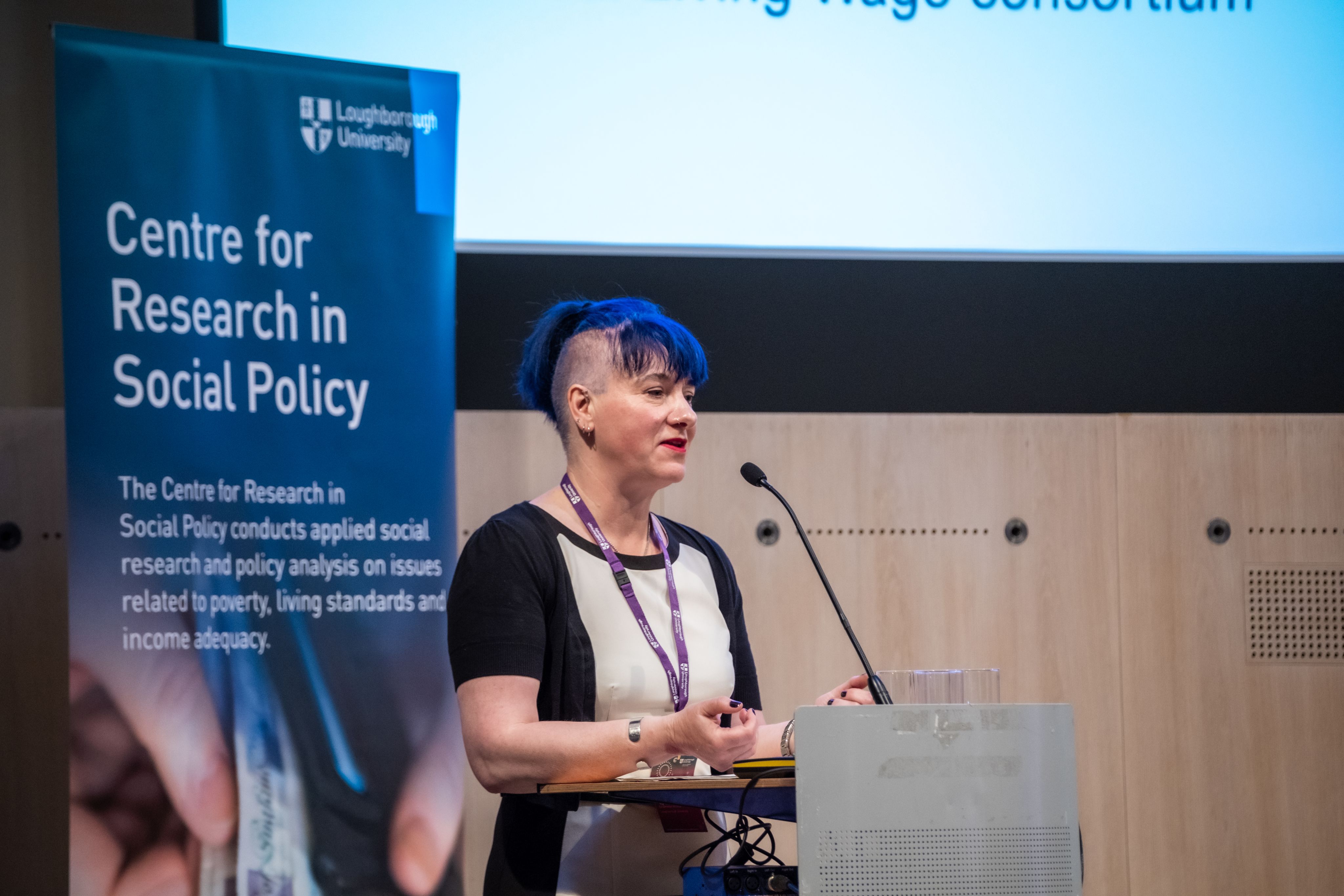 The Centre was established in 1983 by Professor Sir Adrian Webb. It owes its origins to its involvement as the research and monitoring unit of the Department of Health's Opportunities for Volunteering Scheme.
From its inception, the Centre has conducted applied research across the field of social policy – increasing understanding of the nature and causes of social problems; evaluating social and economic policies; supporting policy decision making with current and comprehensive data; and promoting interactions between policy makers, practitioners and the research community.
Work with JRF began in 1991 with a study monitoring the effects on homeless people of the closure of Resettlement Units, and an analysis of the food priorities of low-income families the following year. The partnership has gone from strength to strength and continues today.
"CRSP's long-standing relationship with JRF continues to provide crucial evidence to support our mission to speed up and support the transition to a more equitable and just future, free from poverty, in which people and planet can flourish."
CRSP at 40
"The Centre's work is the jewel in the crown of our social sciences research."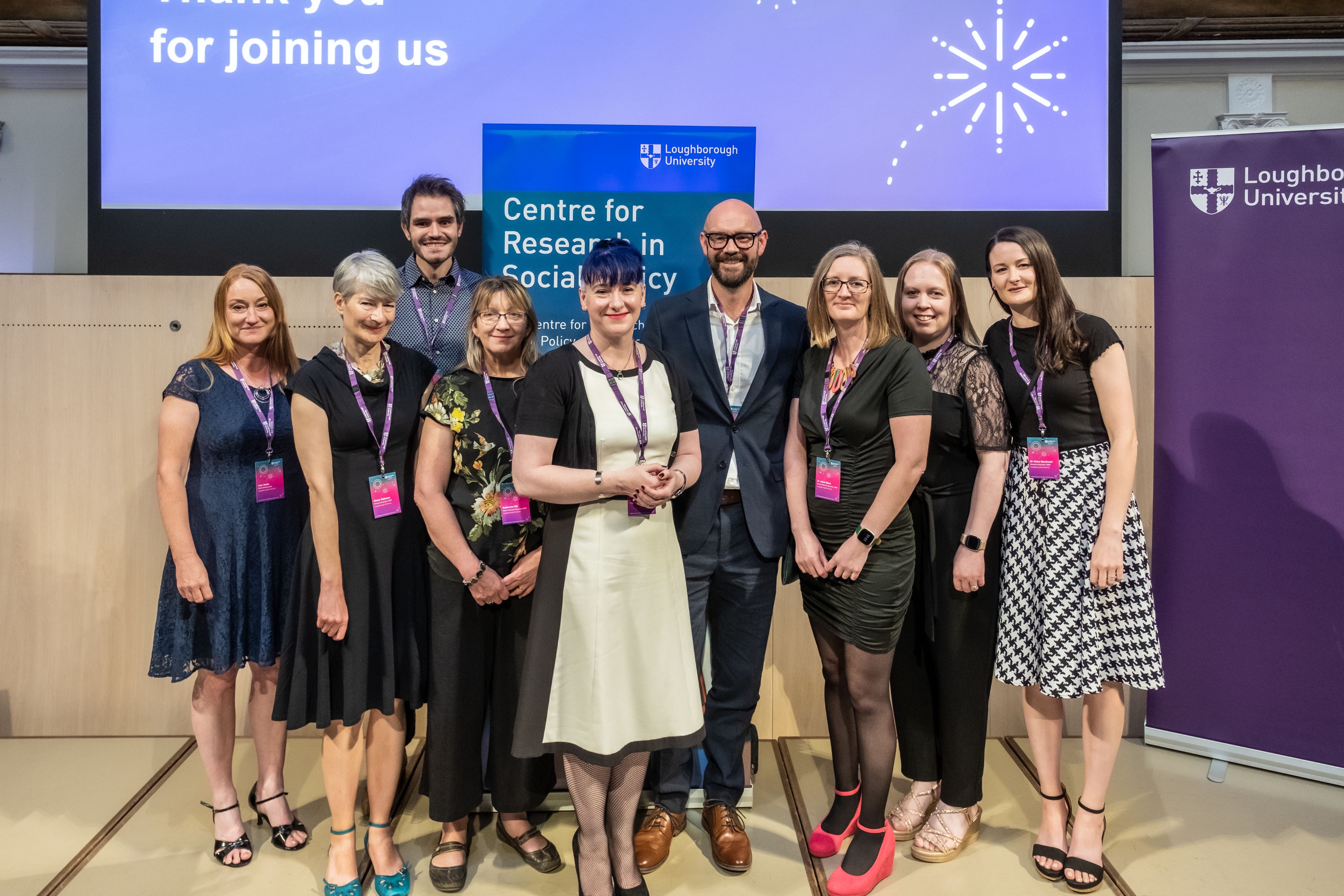 For a research centre whose work has such impact, it is staffed by a relatively small team – comprising the two Co-Directors, two Research Fellows and four Research Associates, supported by two dedicated Administrators.
Between them, they have clocked up more than a century at CRSP – building expertise, developing projects, and nurturing a strong body of iterative work with wide-ranging influence.
The combination of a stable environment and long-serving personnel has enabled the Centre to build a reputation for highly regarded and trusted research that addresses some of the most pressing social issues we face today.
In 2006, JRF funded a groundbreaking and innovative study that combined a consensual budget standards methodology developed at CRSP, with an expert-led and expenditure-focused approach used by the Family Budget Unit at the University of York.
Two years later, the first Minimum Income Standard (MIS) report – A minimum standard for Britain: What people think – was published. It attracted widespread media coverage and informed political and public conversations about the minimum standard of living we should expect in our society.
Since then, MIS has been updated every year, with new research conducted every two – ensuring that it reflects the world as it is now, while picking up changes over time.
In 2010, new work conducted in Northern Ireland enabled CRSP to expand the MIS coverage, and it became a Minimum Income Standard for the UK.
International work began, and over time, adaptations of the research method led to the start of additional projects that are updated on the same schedule – for example, MIS for London (2014) and the Retirement Living Standards (2018).
MIS is now the most widely used benchmark of its kind – informing government and third sector decision-making and policy – including the setting of the UK Living Wage.
How is the Minimum Income Standard defined?
"A minimum standard of living in the UK today includes, but is more than just, food, clothes and shelter. It is about having what you need in order to have the opportunities and choices necessary to participate in society."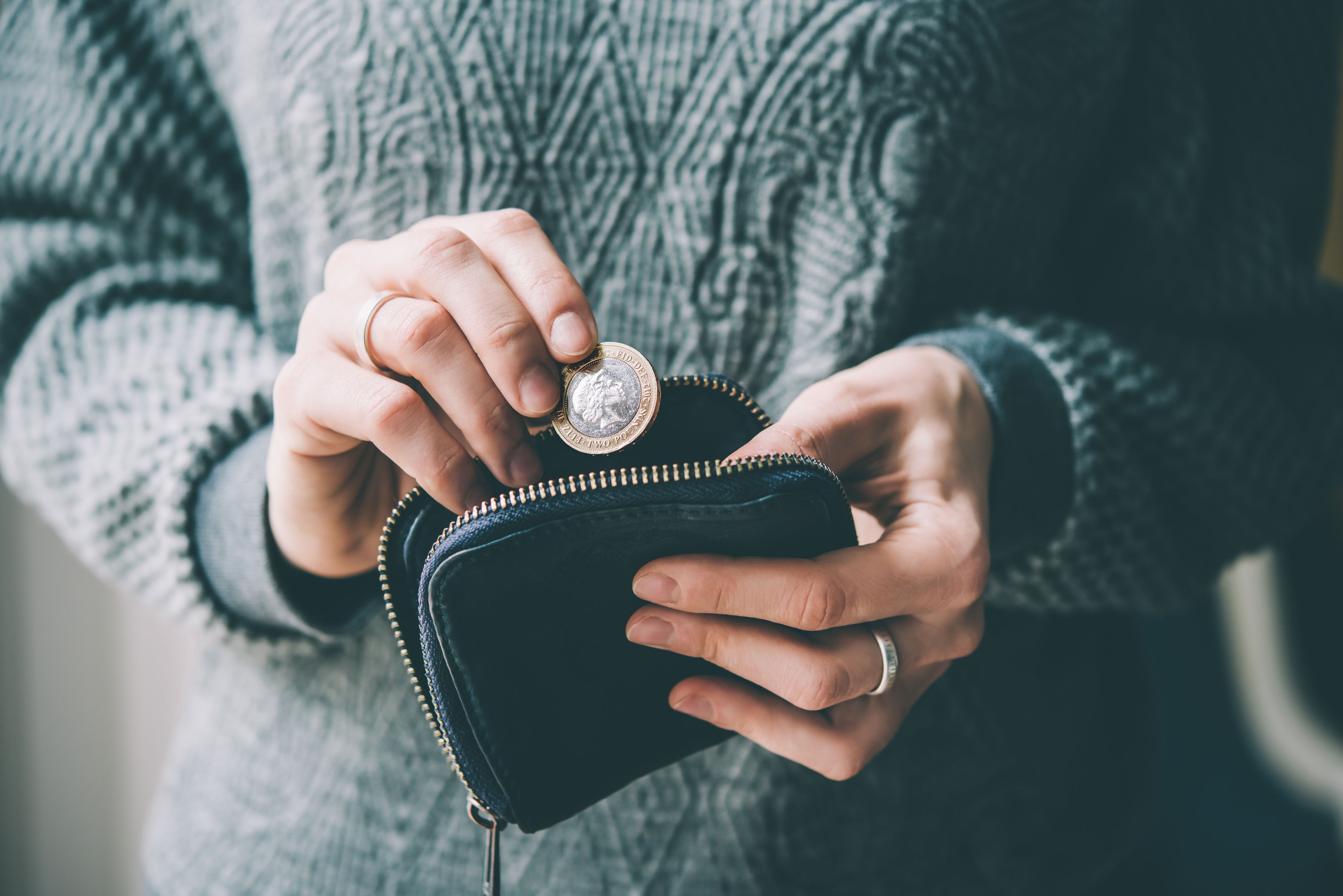 Uniquely, the MIS process is citizen led, establishing a threshold below which the public agree no one should fall if they are to meet essential minimum needs and participate fully in society. To date, more than 3,000 members of the public have contributed to the setting of MIS.
Groups of people – from different geographical and socio-economic backgrounds – are brought together to compile or review lists of the goods and services needed to participate in contemporary society. The items in these "baskets" are costed and checked by subsequent rounds of groups to produce and build consensus.
Experts only advise on specific items – such as nutritional standards, the cost of running a car and domestic utility bills. All key decisions about what is included are made by the groups.
MIS creates detailed budgets for individuals – pensioners, working-age adults and children of various ages – which are combined into different household types. The online MIS calculator can generate 107 household configurations, covering the majority of the UK population.
Updated regularly, MIS stays grounded in a world we recognise, rather than gradually becoming increasingly out of date as time passes. Each household type is reviewed every two years, and the full basket of goods and services is created from scratch every four.
Many of the basket items reappear each cycle, but there are interesting variations over time, reflecting changes in society. For example, in 2022, groups included face coverings, hand sanitisers and home Covid-19 test kits among their list of essential items.
Who uses MIS and what impact does it have?
"We use the MIS methodology because it is unique in providing a detailed picture of what is necessary for a dignified life. Our ongoing research is influencing discussions around the minimum wage, poverty measurement and means tested social transfers."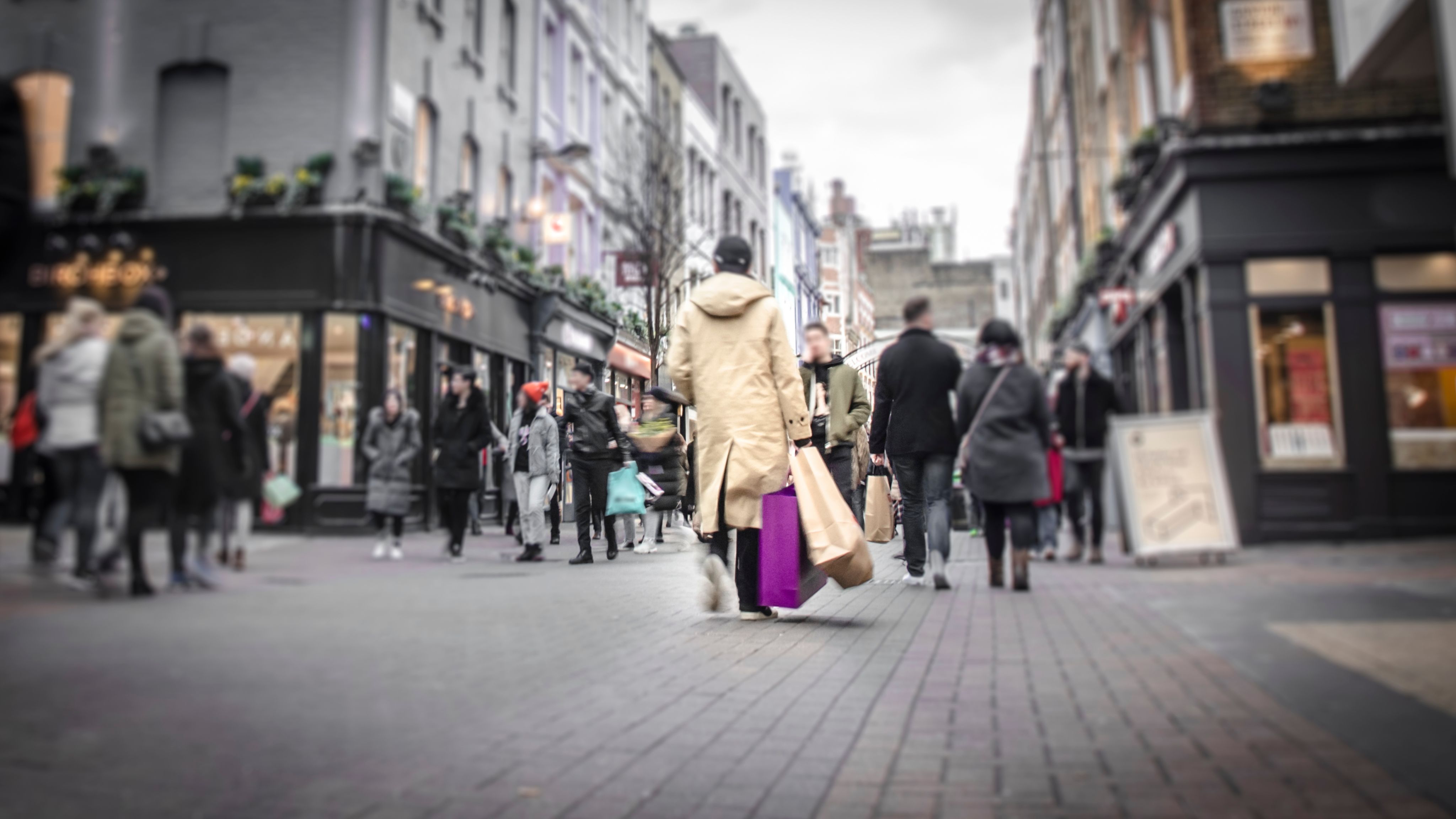 MIS is used by a range of organisations and plays a crucial role in promoting decent living standards for everyone.
The Fuel Poverty Act was passed by the Scottish Government in 2019, setting statutory targets for reducing fuel poverty in Scotland. The Act uses MIS to determine hardship, highlighting households that are fuel poor and in need of assistance. MIS is also being used by the Scottish Government to inform its thinking about establishing a Minimum Income Guarantee.
MIS has been adopted by the Living Wage Foundation as the basis for calculating the Real Living Wage, the only UK wage rate based on the cost of living. Today, more than 13,500 UK organisations – including Loughborough University – are accredited Living Wage Employers, ensuring that tens of thousands of people across the country receive a wage that helps them to meet their everyday needs.
MIS also provides a foundation for the development of ongoing research on Retirement Living Standards (RLS). Commissioned by the Pensions and Lifetime Savings Association (PLSA), the RLS were first published in 2019 and have been updated annually since. They provide an evidence-base for discussion and action around retirement incomes for pensioners – informing over 35 million UK savers across more than 100 pension schemes.
As well as ensuring people have a decent standard of living, MIS was used in the evidence supporting the campaign to abolish employment tribunal (ET) fees. The Supreme Court overturned the introduction of fees in 2017 and since then, 55,000 additional workers have accessed ETs every year. MIS is now being used as a reference point in an ongoing Government review of the means test for legal aid.
CRSP's work has attracted international attention, and to date the MIS method has been applied in nine countries beyond the UK – in France, Ireland, Japan, Mexico, Portugal, Singapore, South Africa, Thailand and Tunisia.
CRSP's work supporting charities
"It is imperative that people living with terminal illness should be able to die with dignity – and the work of CRSP is crucial to making that happen."
Image courtesy of Jeff Moore / Marie Curie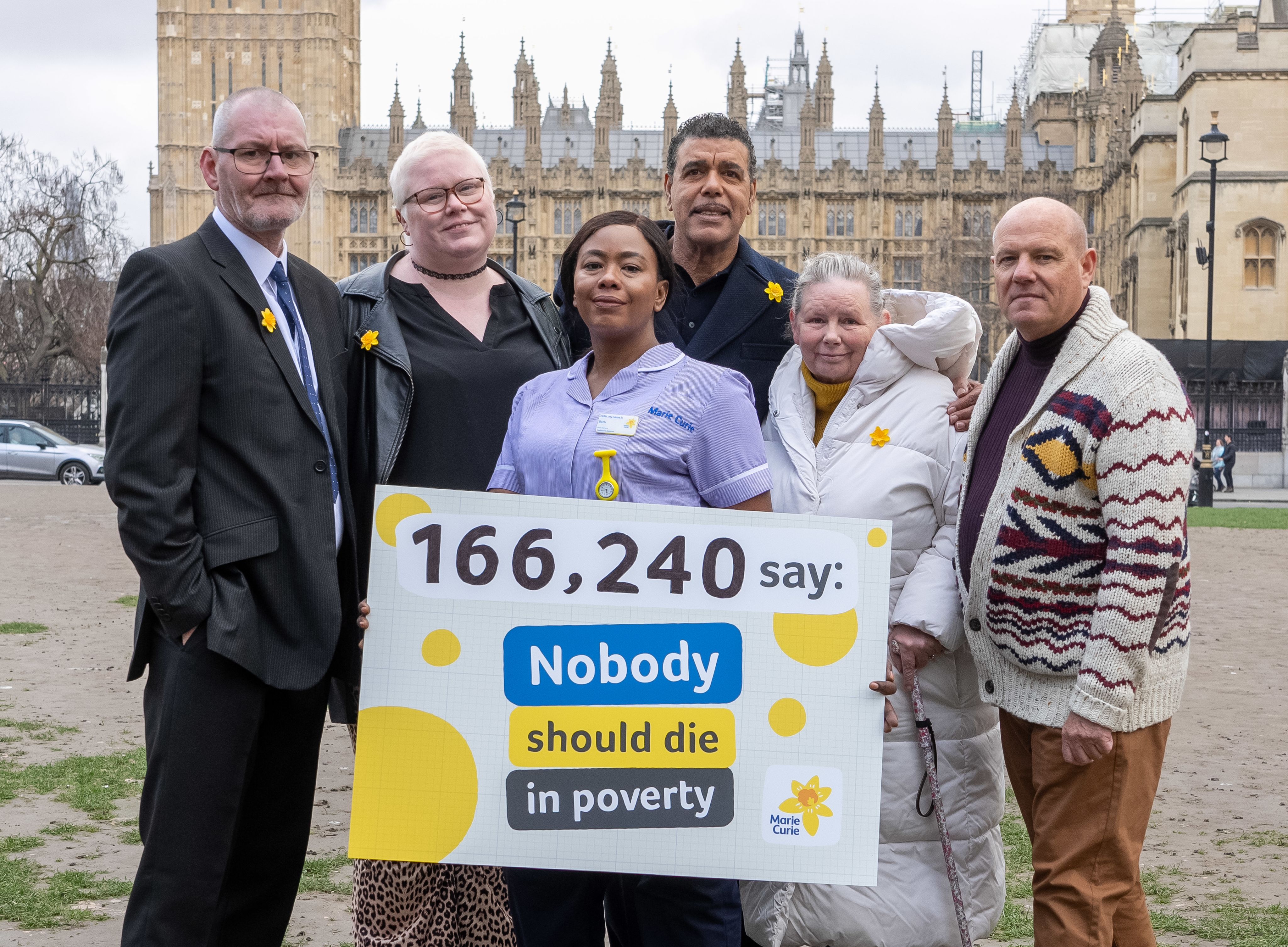 The Centre's research has been used by a wide variety of third sector organisations – including the Shipwrecked Mariners' Society, the Teaching Staff Trust, LionHeart and the Clergy Support Trust – in their efforts to campaign for and support people in financial hardship.
End-of-life charity Marie Curie has estimated that the additional cost of living with a terminal illness can rise to as much as £16,000 a year. By revealing the true extent of the issue, CRSP researchers are supporting the charity's Nobody should die in poverty campaign – which is lobbying the UK Government to give terminally ill people early access to their State Pension as well as support with domestic energy and childcare costs.
Shockingly, the CRSP researchers have calculated that more than 90,000 people in the UK die in poverty every year.
CRSP have also worked with the Thomas Pocklington Trust to determine the additional financial cost of disability for households. This research found that achieving a minimum acceptable standard of living for someone living with a disability – such as sight loss or profound deafness is at least 25% and 82% higher, respectively – than for someone who is not disabled.
A Minimum Digital Living Standard
"A minimum digital standard of living includes, but is more than, having accessible internet, adequate equipment, and appropriate training and support. It is about being able to communicate, connect and engage with opportunities safely and with confidence."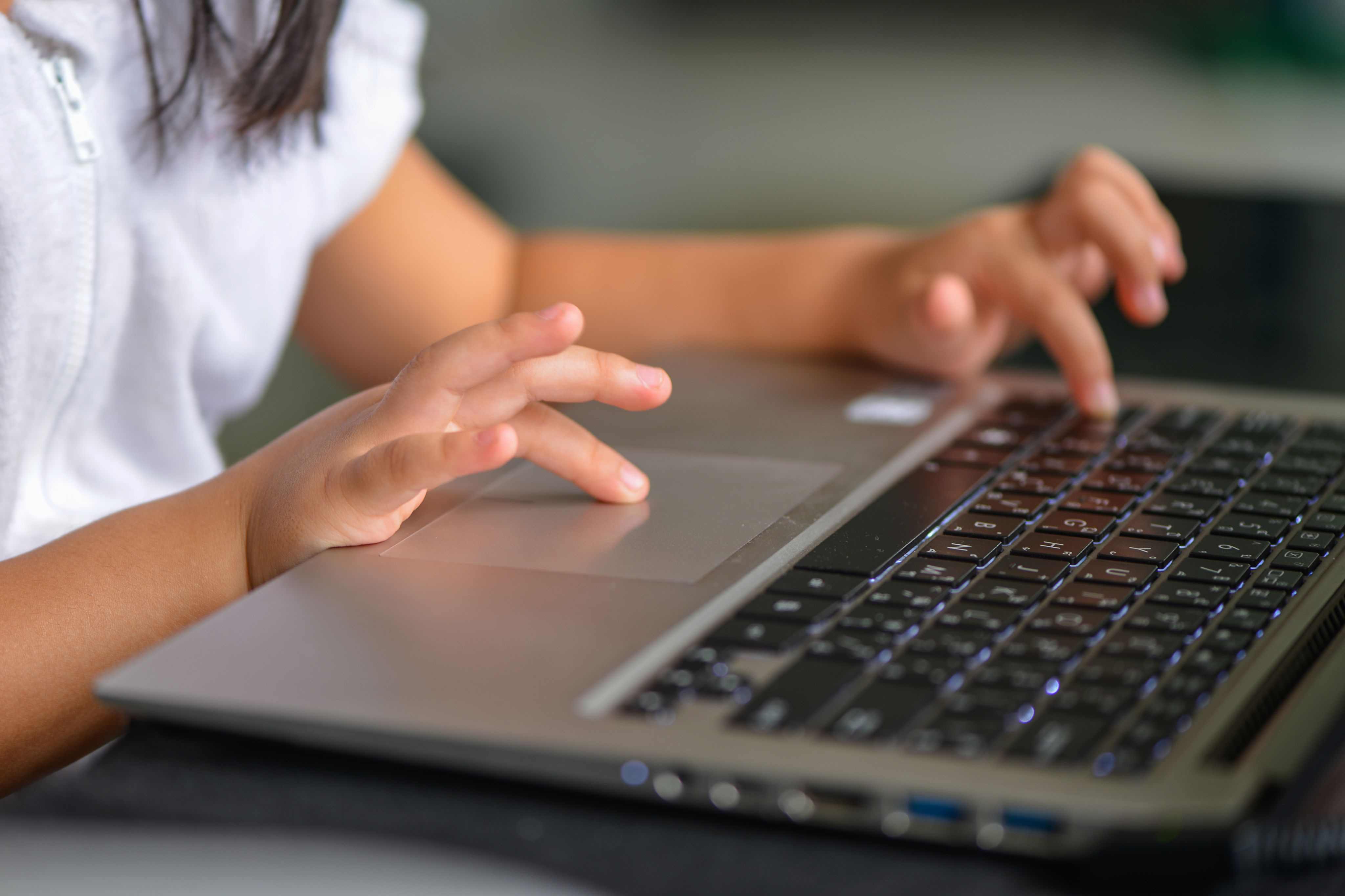 Today, we conduct so many of our everyday work, education and leisure activities online – and access to the wherewithal to do so is becoming increasingly essential.
Funded by the Nuffield Foundation, in a collaboration with Liverpool University, City University and Good Things, CRSP researchers worked with members of the public to build consensus and describe what it means to be digitally included.
Having established the Minimum Digital Living Standard (MDLS) for households with children – their report was published in February 2023 – there are plans to extend the MDLS to all households.
The Welsh Government commissioned further work to explore Minimum Digital Living Standard (MDLS) for households with children in Wales. Discussions are ongoing with the Department for Work and Pensions about how this work can be used to shape future service design for the UK.
Looking ahead – future milestones for CRSP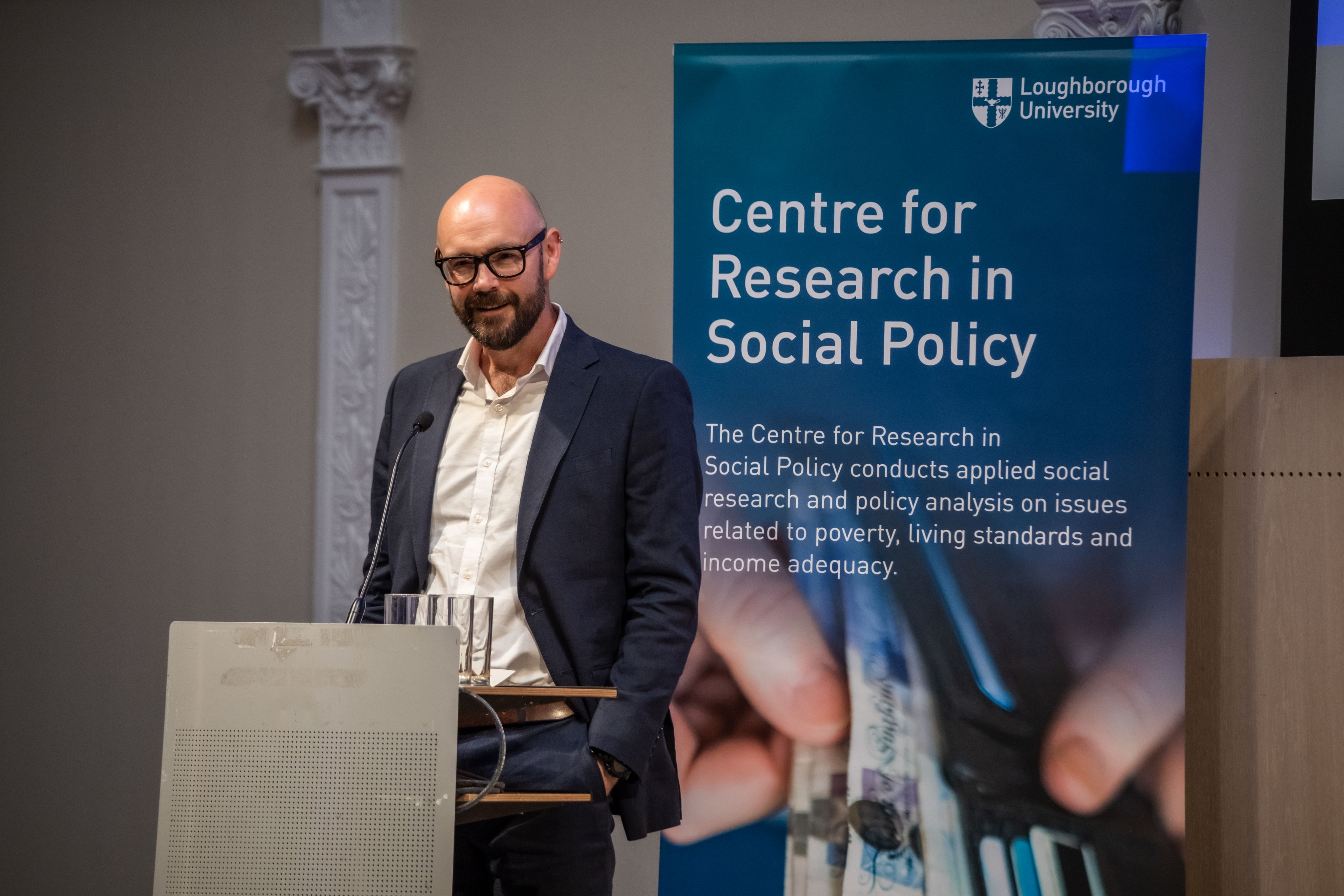 CRSP held its Big Birthday Bash on 12 July 2023 at the RSA House in London. It was attended by funders, partner organisations, friends, staff and alumni. Reflecting on 40 years of outstanding research, the celebration also looked forward to upcoming events…
The final report of the MDLS will soon be published. It will include a survey showing which households are most likely to fall below the Standard and where in the country they're most prevalent.
Autumn 2023 will see the launch of new research, funded by JRF, looking at the costs facing non-resident parents who have some responsibility for childcare, including overnight stays.
For the first time since 2008, during 2024, all MIS UK budgets are being completely redeveloped from scratch in the same year. MIS London, funded by Trust for London, will also celebrate its 10th Anniversary next year – and a complete update with primary research across all household types is planned for the capital.
The two reports (MIS UK and MIS London) are scheduled to be launched in September 2024.
Looking further ahead, in 2028, CRSP will mark 20 years of MIS. And, in 2033, CRSP will turn 50!
Reflecting on the Centre's 40 years, CRSP Co-Director Professor Abigail Davis said: "Celebrating CRSP's 40th Anniversary gives us a chance to reflect on the ongoing need for social policy research.
"It's sobering to think that many of the issues our earliest projects researched are still concerns today – reinforcing the need for us to continue to stand up for people who are vulnerable, impoverished, demeaned and disadvantaged by the structural constraints that prevent them from living in dignity.
"We intend to continue collaborating in impactful partnerships, pointing out the uncomfortable truths, helping people's voices to be heard, and influencing much-needed change in our society."
An interview series featuring CRSP researchers, key stakeholders and partners is available to watch on YouTube.