Disability, health and wellbeing
The Peter Harrison Centre for Disability Sport – promoting the benefits of sport on people's health and quality of life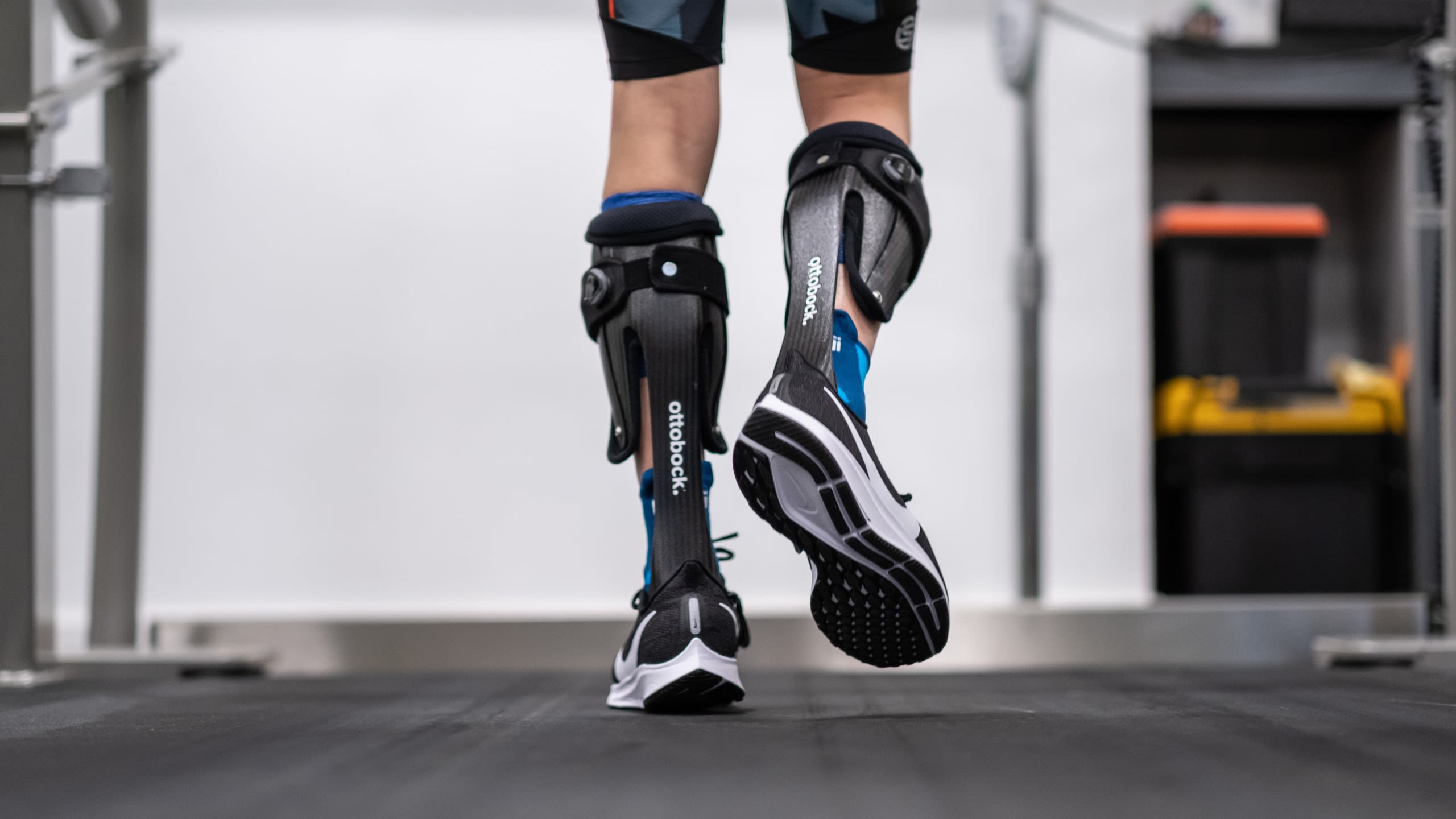 Inaugurated in 2010, UK Disability History Month honours the lives and achievements of people living with a disability – and recognises the history of the disability movement's struggle for equality and human rights.
The theme of this year's month of events is "Disability, Health and Wellbeing".
So, what better time to celebrate the research achievements of The Peter Harrison Centre for Disability Sport (PHC) which has been advancing the health and well-being of people living with a disability for almost two decades.
Established on the Loughborough campus in 2005 – with the generous support of The Peter Harrison Foundation – the Centre has a two-fold remit, namely to:
Enhance knowledge of Paralympic sport
Promote the substantial health benefits of disability sport
Today, it is regarded as an international leader in its field – improving the lives of disabled people through sport and exercise while supporting Para athletes to make history on the world stage.
In September 2022, the Centre's researchers welcomed the Foundation's Trustees to campus to mark the official naming of the Peter Harrison Laboratory in the National Centre for Sport and Exercise Medicine (NCSEM).
The Laboratory will allow researchers to continue their work of translating research across the continuum of disability sport, exercise and rehabilitation well into the future.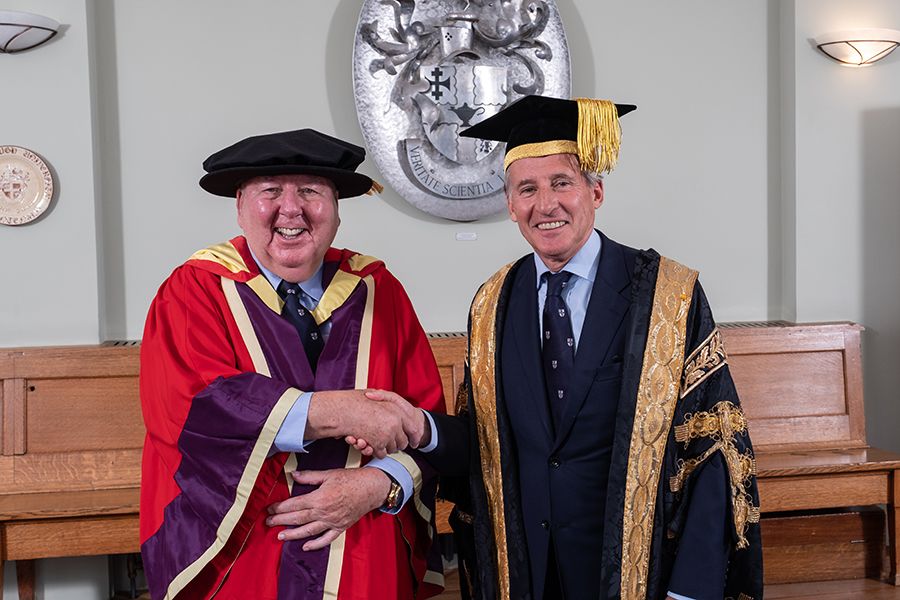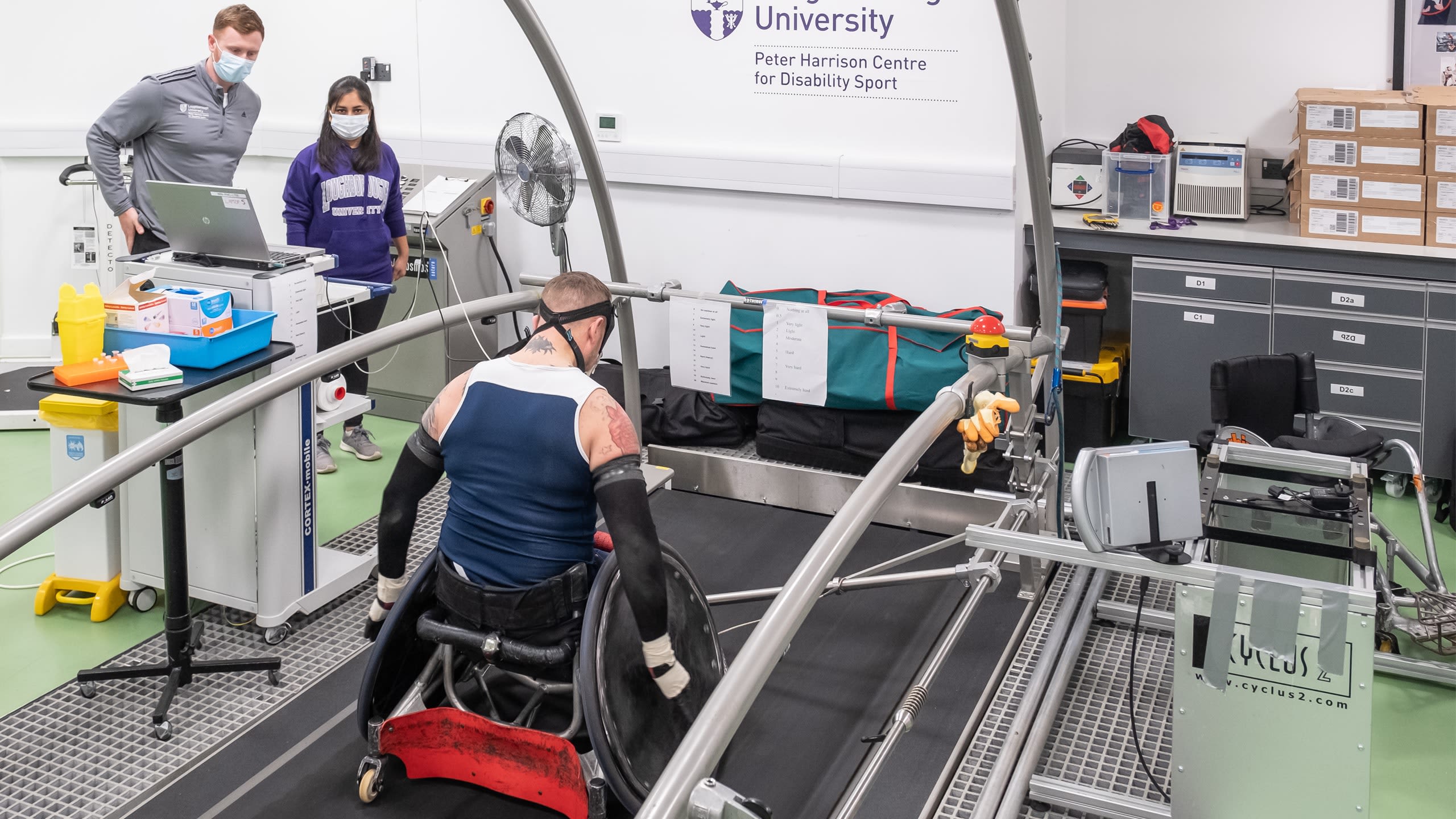 "The Peter Harrison Centre is a real jewel in Loughborough's crown. People should not underestimate its power – this research doesn't exist anywhere else."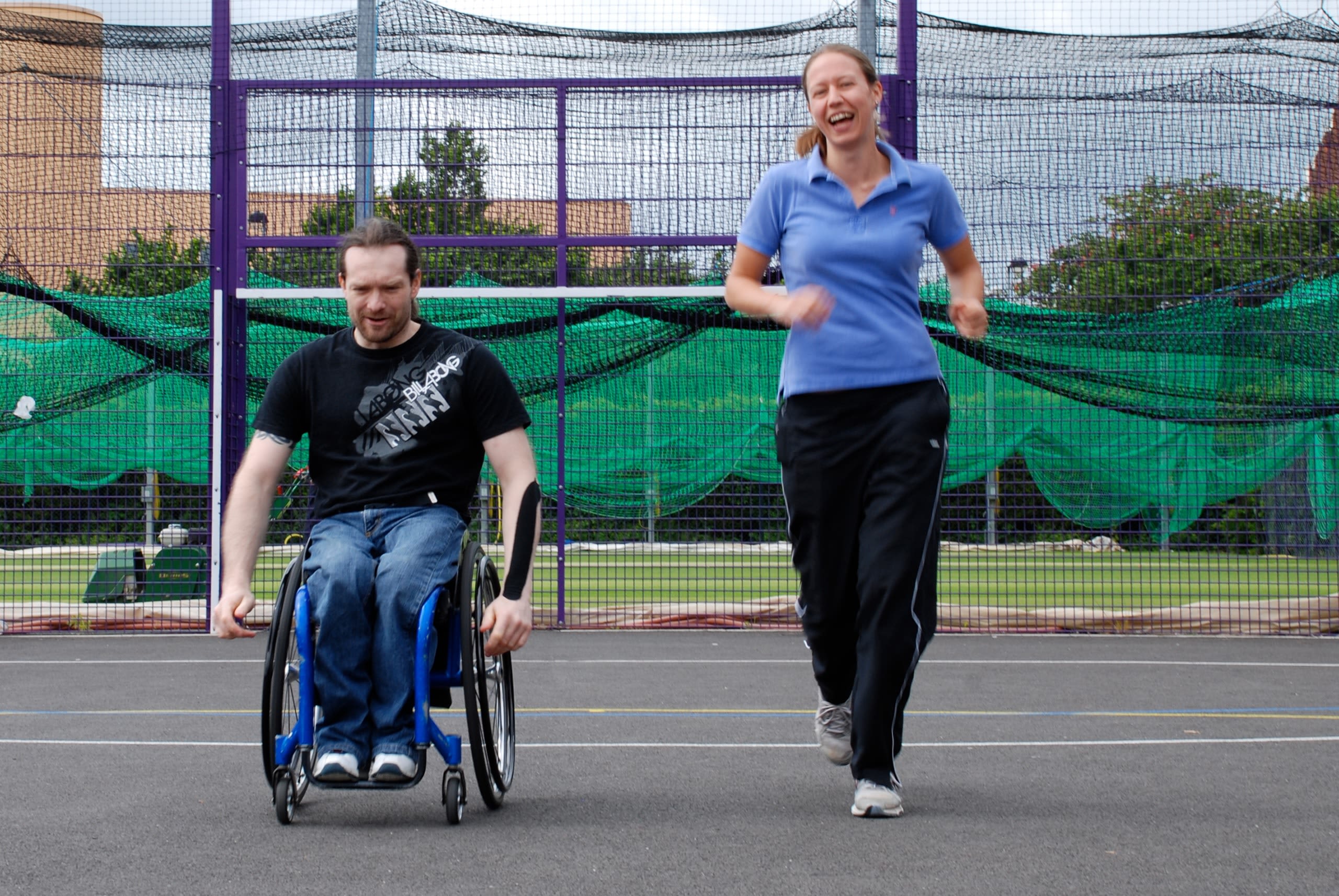 Enhancing elite sport performance
One aspect of the Centre's work is to provide sport science support to several GB Paralympic squads. In other words, they are part of the crucial "team behind the team" that helps make history.
Research into Paralympic sport is currently limited and information about effective training principles for wheelchair athletes is equally sparse. The Centre's researchers are increasing global knowledge about training, and investigating the efficacy of guidelines for non-disabled participants when applied in a wheelchair sports context.
And, their research has achieved considerable impact on athlete performance and health.
In 2019, their findings led to a Paratriathlon policy change – safeguarding athletes during competitions in warm climates – and contributed to the International Triathlon Union's guidance to athletes preparing for competitions scheduled in the heat (Beat the heat). As a result, the incidence of cases of heat-related illnesses dropped during the 2019-20 season.
The impact of high temperatures on athlete wellbeing was a major concern during the Tokyo Paralympics. The PHC research team contributed to the evidence around the use of ice slurry during the Games' tennis competitions, helping to protect players against overheating and thermal strain during matches.
Ahead of these Games, PHC researchers also developed a deeper understanding of the technical requirements of the wheelchair tennis serve – better informing coach practice, enhancing player performance, and reducing injury.
Another strand of research has investigated aspects of wheelchair rugby – including skill acquisition, talent development, performance analysis, equipment design, and injury and illness. The findings of the work are already influencing player performance and wellbeing.
In fact, the support given to the GB squad during its Tokyo quest contributed to the wheelchair rugby team's success. They secured gold – the first-ever wheelchair rugby Paralympic medal achieved by a European team.
Meanwhile, when compiling its 3x3 Wheelchair Rules (2019), the International Wheelchair Basketball Federation (IWBF) drew on the Centre's research.
Using an indoor tracking system – developed in collaboration with UK Sport, the English Institute of Sport, McLaren Applied Technologies and Para sport governing bodies – the project explored the demands on wheelchair basketball and rugby players, and uniquely quantified the activity profiles of both sports.
This led to the 3x3 format's historic 2022 debut at the Commonwealth Games – widening participation and establishing it at major world sporting events.
In partnership with the British Wheelchair Basketball and IWBF, PHC researchers also played a critical role in the development of the Minimum Impairment Criteria to ensure that the sport remains part of the Paralympic programme for Paris 2024.
These achievements ensure that Paralympic sport remains a key component of international events, becomes safer for participants and ever more inclusive.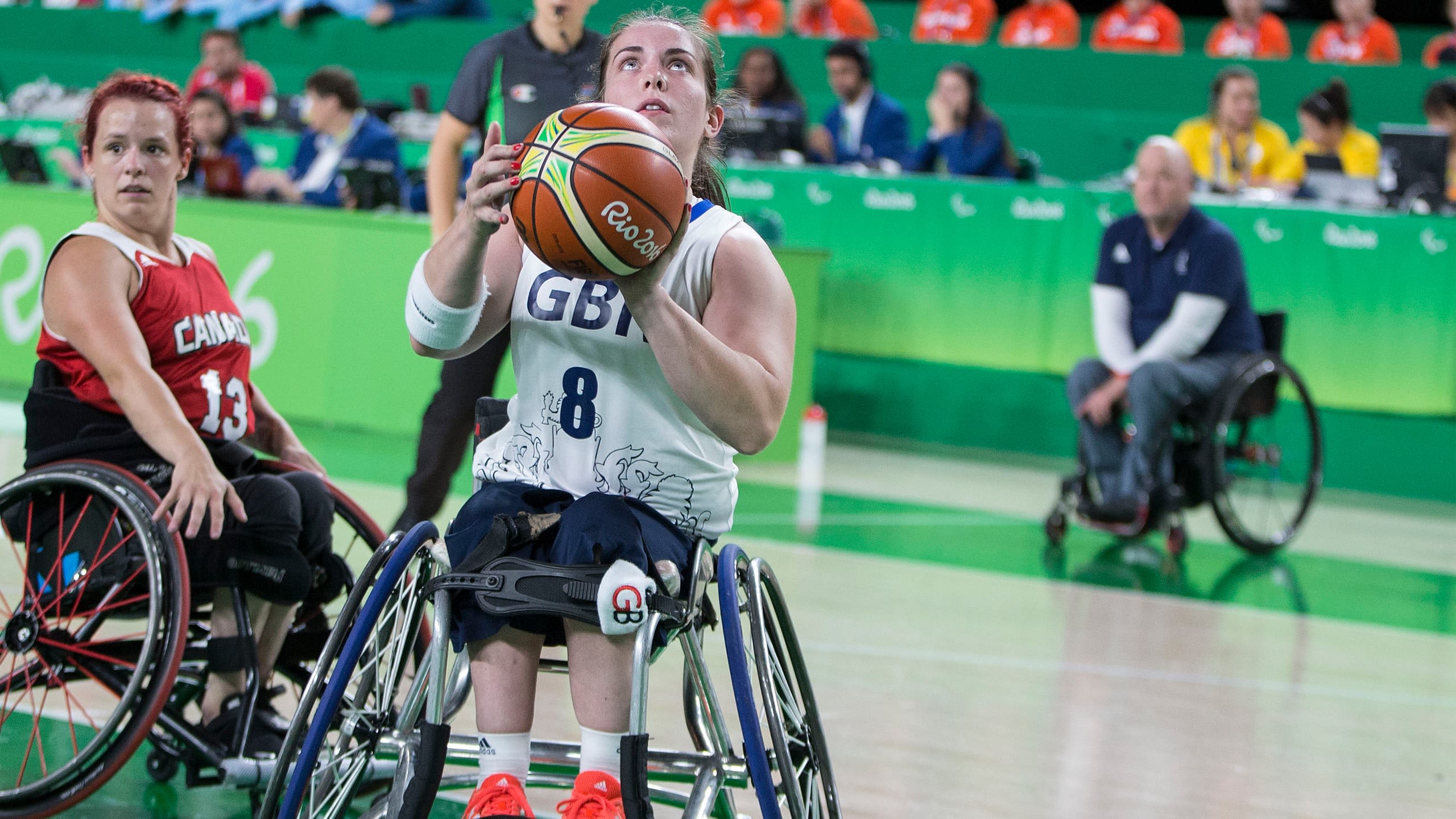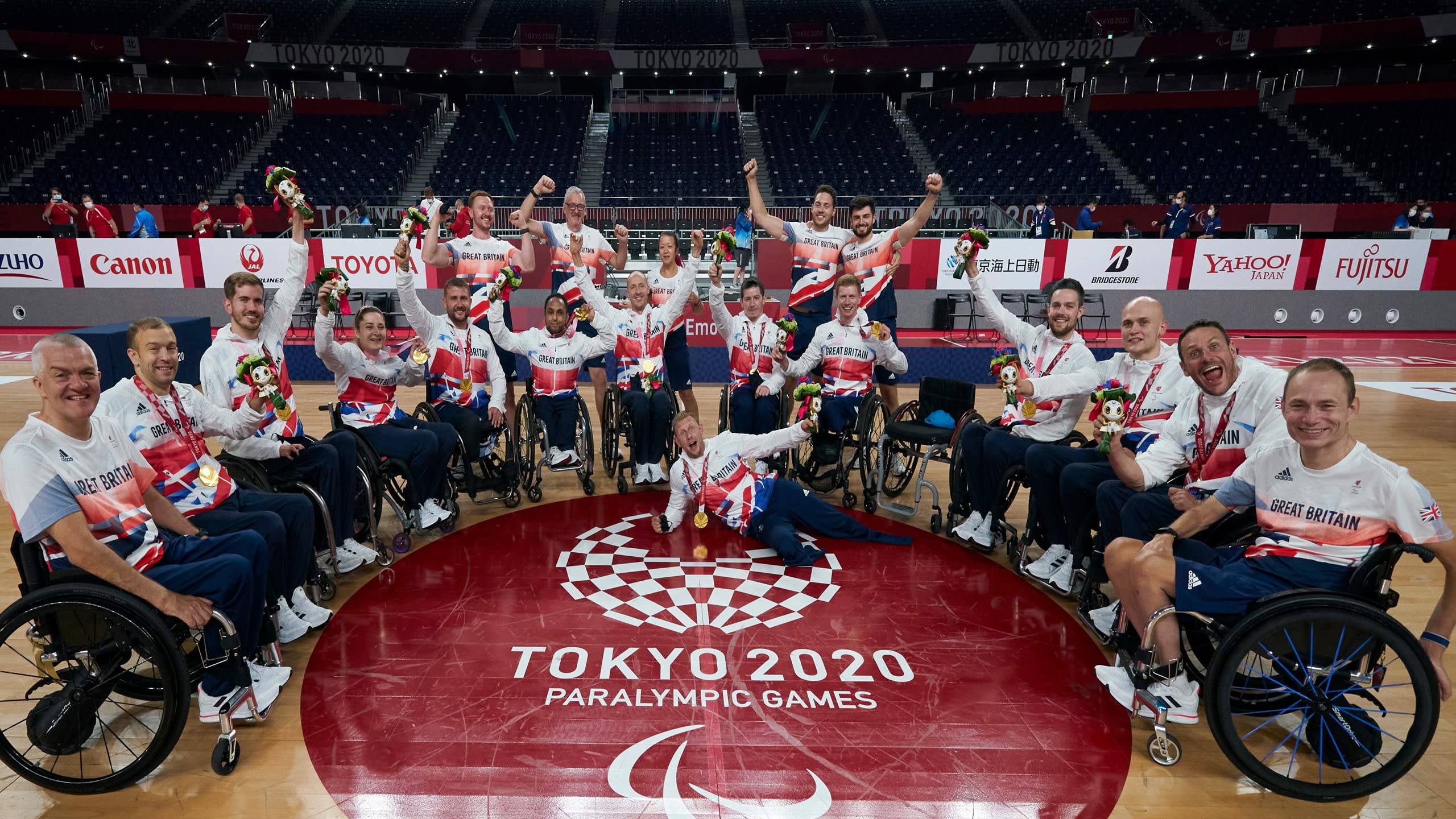 Canoe clubs across the country are now introducing athletes to both the kayak and Va'a. This has opened the sport up to a different range of disabilities."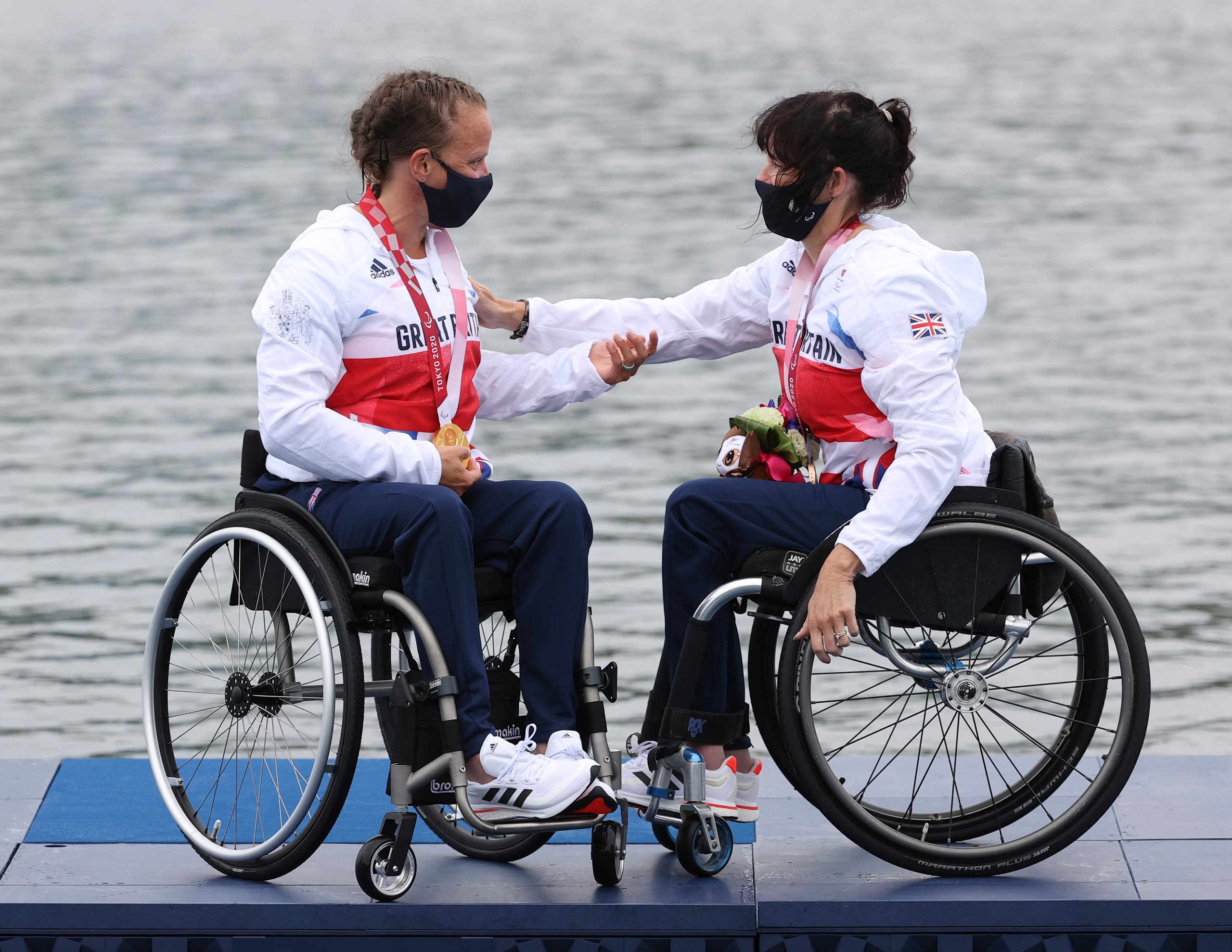 ParalympicsGB's Emma Wiggs (left) and Jeanette Chippington win Gold and Bronze in the Para Va'a © ParalympicsGB
ParalympicsGB's Emma Wiggs (left) and Jeanette Chippington win Gold and Bronze in the Para Va'a © ParalympicsGB
The PHC are supporting the development of robust, evidence-based classification systems – facilitating wider inclusion in elite sport.
Classification is often described as the cornerstone of Paralympic sport, minimising the impact of impairment on performance. Athletes with more severe impairments stand a fair chance of success, while people are not penalised for improving their performance through training and skill development.
Historically, however, few classification systems were underpinned by rigorous scientific research – leading to much controversy. In 2003, the International Paralympic Committee (IPC) mandated that all sports must develop robust, evidence-based classification systems – a decision approved by the Paralympic Movement.
PHC researchers have been closely involved in these efforts to create a level playing field.
In 2021, Para Va'a made its historic debut at the Tokyo Olympics, thanks to a new Paracanoe classification system supported by the PHC team. Working with the Swedish School of Sport and Health Sciences and the International Canoe Federation, they explored how athletes with different impairments paddle in comparison to able-bodied athletes.
The project's findings formed the basis for the new evidence-based classification system – the first of its kind.
What's more, ParalympicsGB's women won gold and bronze medals at the Games in the Para Va'a event – and UK Sport subsequently increased its funding to Paracanoe by 27%.
Similar classification work is ongoing – including within wheelchair rugby with the International Wheelchair Rugby Federation, and wheelchair tennis with the University of Queensland and the International Tennis Federation.
The right chair for the job
"The new seat has improved my game enormously – I believe it is allowing me to play my best ever basketball."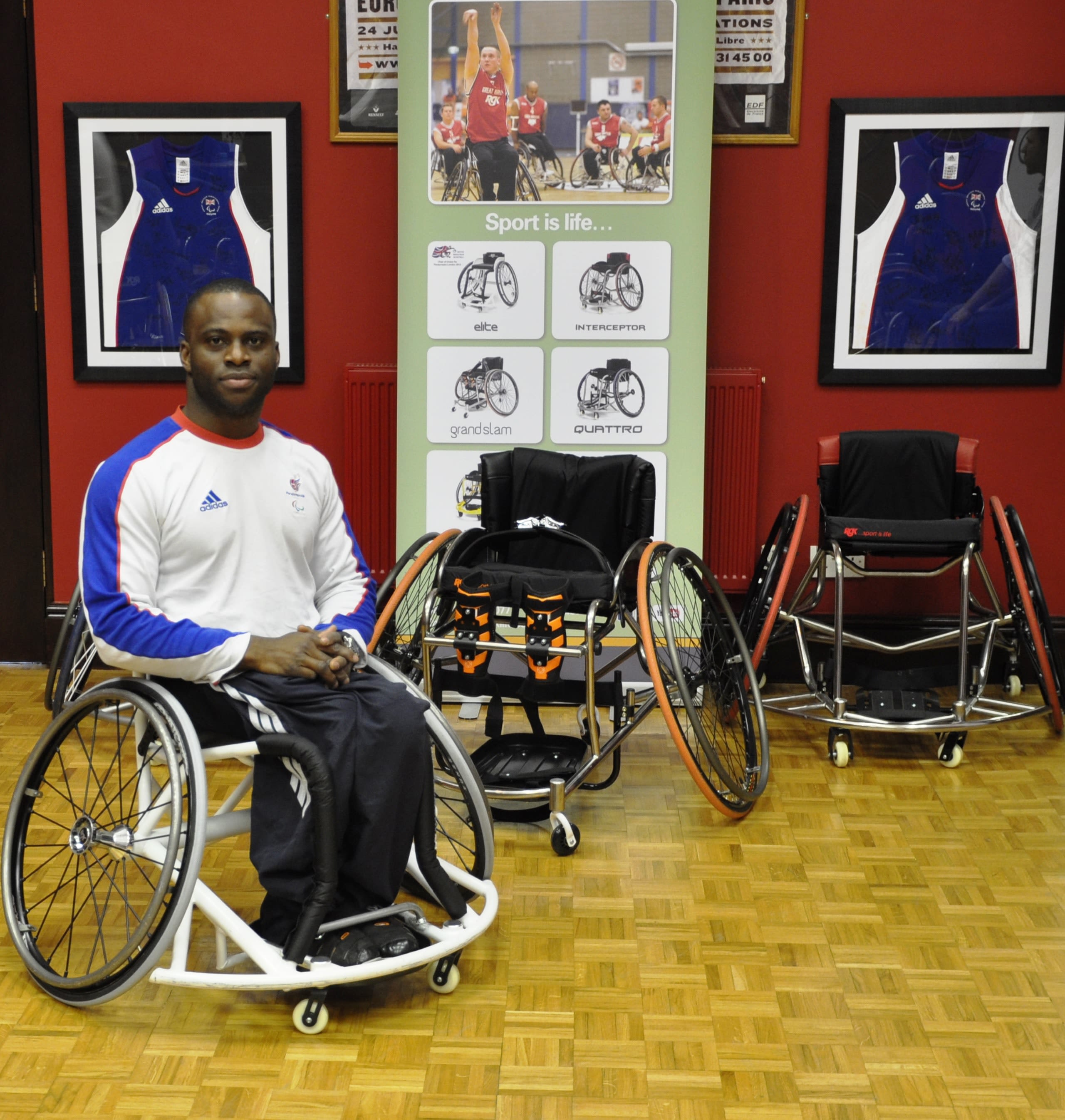 The PHC's wheelchair configuration research has had a huge influence on Paralympic athletes – helping them to become more informed about their chair choice and training strategies.
For athletes, choosing and configuring their sports wheelchair is a vital but complex process that has implications for both their performance and safety.
Design varies by sport, but being light-weight they are all easier to propel than an everyday chair – reducing wrist and shoulder injuries – and their distinctive camber and wheel angle helps to prevent tipping and falls.
In collaboration with several partners, including the Sports Technology Institute (STI) and UK Sport's Research and Innovation team, the PHC researchers have helped to develop an innovative seat for members of the British Wheelchair Basketball team which delivers a range of performance benefits.
Another study comparing athletic and nonathletic wheelchair use revealed that everyone uses similar strategies to propel their everyday chair. Thus, clinicians and coaches may be able to use information from biomechanical studies of nonathletic wheelchair use to inform their work with athletes.
An ongoing study with the Centre's Dutch collaborators is exploring the use of inertial sensors for ambulatory monitoring of wheelchair athletes. The findings of this research will help to optimise training preparation and injury management.
And, of course, as knowledge about Para sport grows, our understanding of the substantial health benefits of physical activity for the general wheelchair-using population similarly expands – enhancing the wellbeing of everyone.
Promoting active and fulfilling lives – for everyone
"There is a depth and range to this book [The Very Alternative Guide to Spinal Cord Injury] that belies its apparent simplicity. It manages to be informative whilst also being heartfelt and humorous."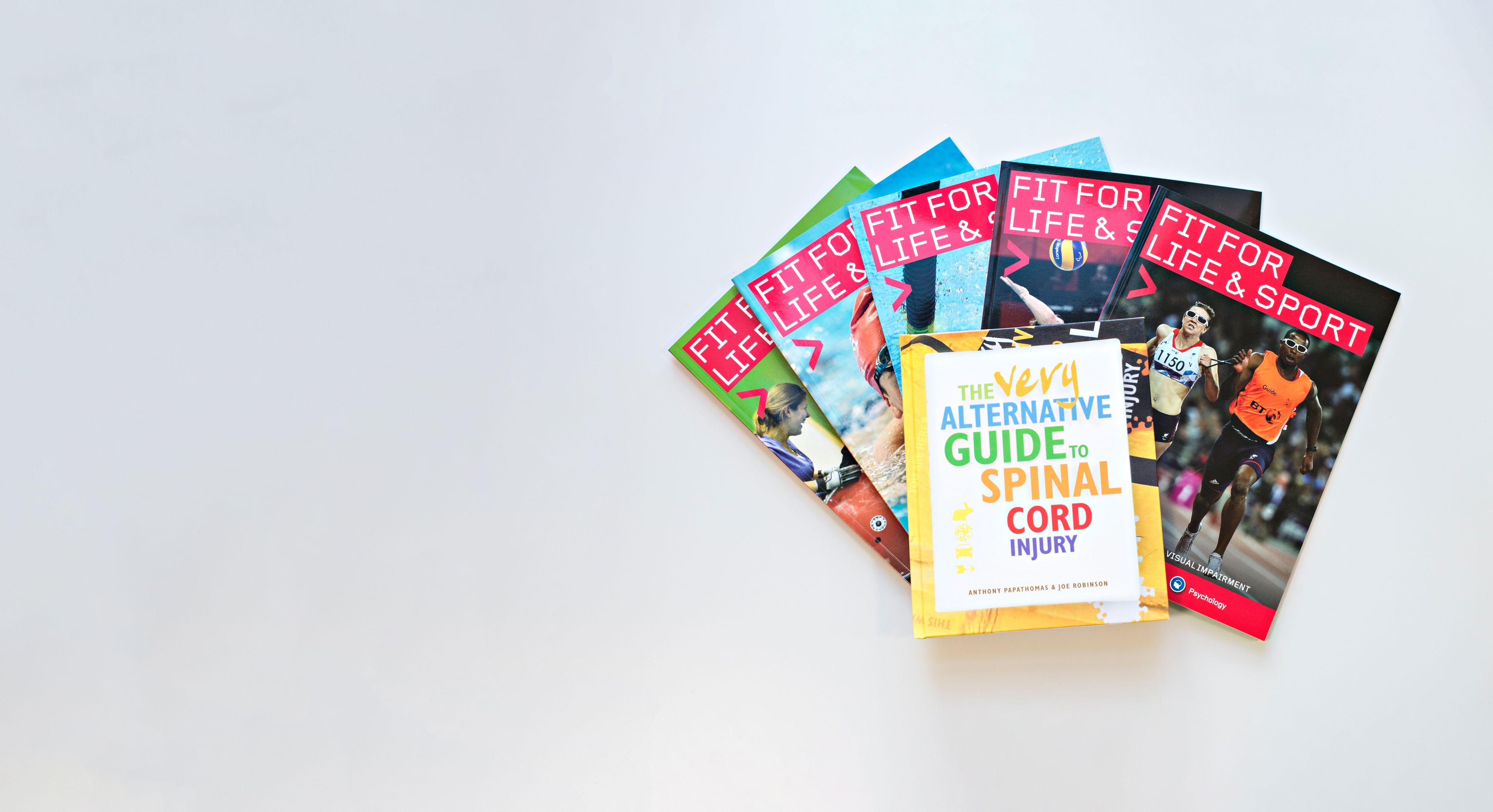 The Centre's remit includes the promotion of exercise among all people with a disability by providing clear guidance on how activity can improve quality of life, wellbeing and independence.
In 2013, in partnership with the British Paralympic Association, the PHC developed an Educational Toolkit as part of the Fit and Healthy Project funded by The Coca-Cola Foundation.
The Toolkit outlines the best approach to exercise for people with a range of disabilities – including spinal cord injury (SCI), cerebral palsy, amputation, visual impairment and Les Autres – and highlights the comprehensive benefits of regular physical activity.
It's estimated that that more than 86,000 people accessed the Toolkit within the first two years of its publication.
In 2016, leading an international team of experts, the PHC began to develop a set of evidence-based scientific exercise guidelines for people with SCI.
The research challenged conventional thinking and comprised a systematic review of existing information and – more importantly – consultations with people with SCI and their clinicians to ensure the guidelines' acceptability and suitability.
This work has since been shared with rehabilitation medical staff at Wakayama Medical School in Japan to develop culturally appropriate clinical practice guidelines for adults with a SCI for use in Asia.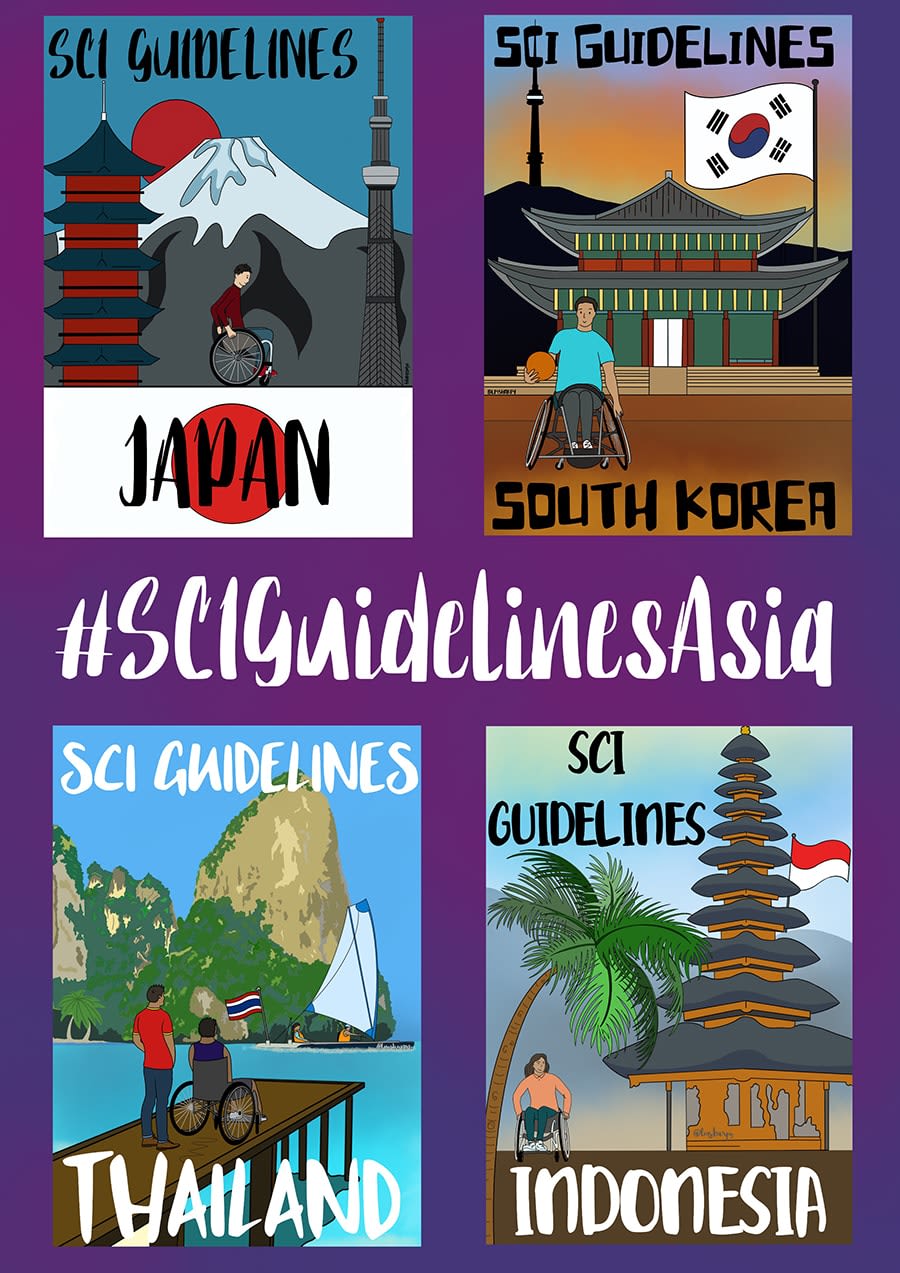 Meanwhile, The Very Alternative Guide to Spinal Cord Injury was published in 2017. It has been welcomed by healthcare professionals, and NHS spinal injury units use it to deliver support to new patients.
And, for people who are unable to exercise, researchers in the Centre are exploring a range of treatments that replicate the health benefits of physical activity.
One study has shown that hot-water immersion regulates insulin levels, lowers blood pressure and boosts the body's ability to fight infections – reducing the risk of cardiovascular disease and type II diabetes.
Building on these findings, a heated suit has been developed. Trials have shown that it mimics the increase in blood flow caused by exercise – helping to maintain oxygen levels throughout the body and muscles. It also seems to control insulin production – boosting the body's ability to process sugar, reducing the risk of diabetes.
Though still in their early stages, developments like these could underpin future evidence-based passive heating guidelines for people who are unable to exercise – allowing them to reap the types of health benefits usually associated with physical activity.
"It is my great pleasure that I have been working with (the PHC) on research into exercise and sports for people with disabilities for the past 10 years, supporting the promotion of five colleagues. No other department in Japan is so successful. Above all, the Tokyo Paralympics were successful, and sports for people with disabilities were widely recognized in Japan, impressing the general public."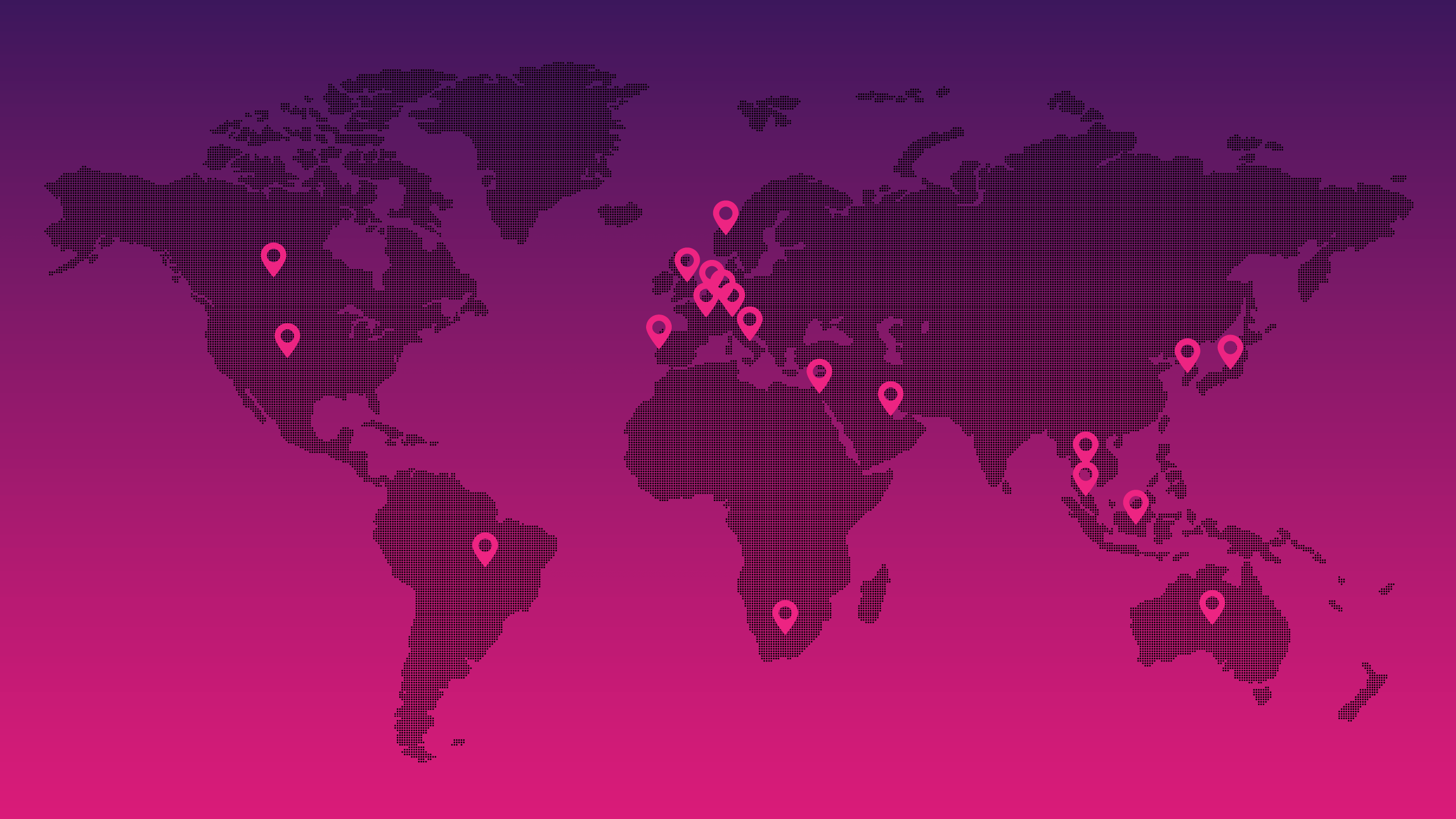 The PHC has partners and collaborators worldwide across Africa, Australia, Asia, Europe Middle East and the US. Its diverse stakeholders include national and international sports organisations as well as world-leading research institutions.
Pooling expertise and knowledge with these bodies to create successful outcomes is an important part of the Centre's ethos – improving the relevance and usefulness of the work and, crucially, broadening its global impact.
Alongside these partners is another very important group of stakeholders – the individuals and community groups that participate in the ground-breaking studies. And, without whom, the research would have far less validity and veracity.
These invaluable research participants help guide the interpretation and application of the research findings and co-create innovative ways to disseminate them.
Their involvement also means that the solutions developed effectively meet their needs and are acceptable – not simply devised and imposed by researchers who may have little or no lived experience of the issue.
Put simply, they are as crucial to delivering impact as the Centre's research partners and the funding bodies that support them.
Ensuring ongoing research and impact
Alongside its research, the PHC makes an important contribution to the world-class teaching of the School of Sport, Exercise and Health Sciences – creating a launch pad for Para sport excellence.
Both undergraduate and postgraduate students are taught by the PHC's academic staff – and their studies are complemented by hands-on learning opportunities with a range of partners including British Wheelchair Basketball, Great Britain Wheelchair Rugby, Lawn Tennis Association, British Paratriathlon and the campus-based Loughborough Lightning Wheelchair Basketball Team.
Similarly, PhD researchers have access to the Centre's state-of-the-art facilities and ample scope to work alongside local, national and global organisations – benefitting from experiences that prepare them to excel in Para sport as well as a host of health and well-being disability professions.
Supporting and nurturing the next generation of disability sport and exercise researchers ensures that work in this area continues – safeguarding and promoting the health and wellbeing of people worldwide.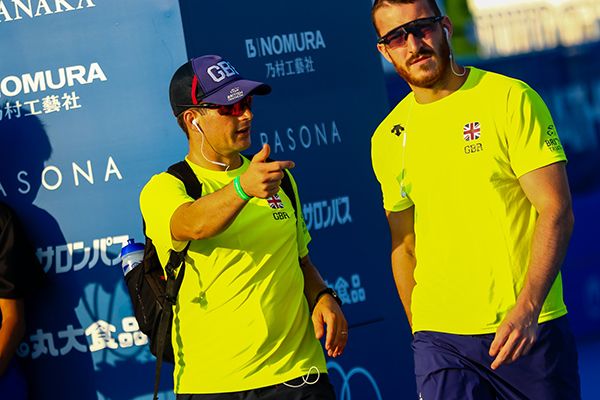 Creating better futures – together
The PHC's research plays a prominent role in the University's Strategy – Creating Better Futures. Together – and is an exemplar of the commitment to deliver benefits to the world of sport and improvements to public health through world-leading research and innovation.
Professor Vicky Tolfrey, Director of the PHC, says: "Our vision is to be an internationally engaged, research-intensive Centre that delivers meaningful impact and keeps students at the heart of our work.
"Our global partnerships allow us to push back the boundaries of what's possible while ensuring that we deliver solutions that are relevant and useful.
"We are hugely grateful to The Peter Harrison Foundation for its generous support over the years. Without their belief and backing, we would not have been able to explore such a breadth of areas and make such rapid progress in them.
"As a Team, we work hard to improve knowledge about Paralympic sport as well as the health and wellbeing benefits of physical activity. We're proud of our achievements to date – and committed to delivering work that promotes safe and inclusive disability sport opportunities for everyone."