Harnessing the sun
By Paula Malins, Enterprise Marketing Officer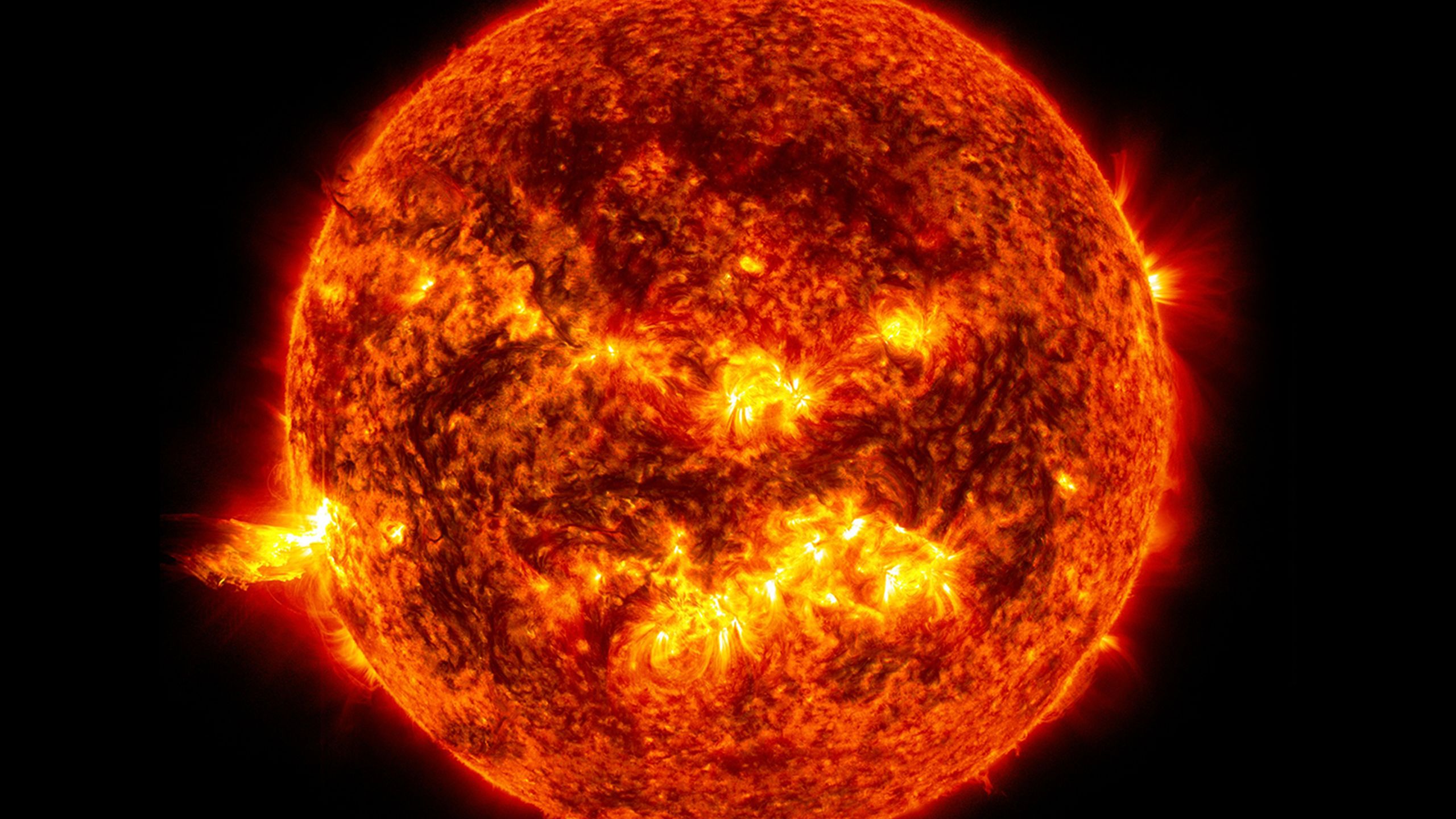 26 November 2019
For the first time ever, from July to September this year, renewable energy sources provided more electricity to UK homes and businesses than fossil fuels.
The milestone came to light in October, in new research released by  Carbon Brief. Their latest analysis showed that electricity from British windfarms, solar panels and renewable biomass plants has surpassed fossil fuels since the UK's first power plant fired up in 1882.
Although the analysis also highlighted that it is very unlikely renewable energy will generate more electricity than fossil fuels across the full year of 2019 – it paints a positive picture for a greener future.
Research, development and technology in solar photovoltaics (PV) and wind are central to the change happening within the global energy system. Wind power is currently the UK's strongest source of renewable energy – but what possibilities does the sun hold?
CREST, Loughborough's Centre for Renewable Energy Systems Technology, champions game-changing research in photovoltaic technologies and, in collaboration with nine other green energy powerhouses, is delivering solar research that punches above its weight internationally.
THE COLLABORATION
What is the SuperSolar Network?
The SUPERGEN SuperSolar Network+ is an inclusive solar community of UK universities and industry partners who are driving photovoltaic research and development. Launched in May 2012, SuperSolar comprises ten core partners – the universities of Bath, Cambridge, Imperial College London, Liverpool, Loughborough, Oxford, Sheffield, Southampton, Swansea and Warwick – and has over 600 individual members drawn from more than 50 institutions.
The SuperSolar project is part of the SUPERGEN programme, which was set up in 2001 after receiving significant support from the Engineering and Physical Sciences Research Council (EPSRC)– the UK Government's single biggest investment in low-carbon energy research.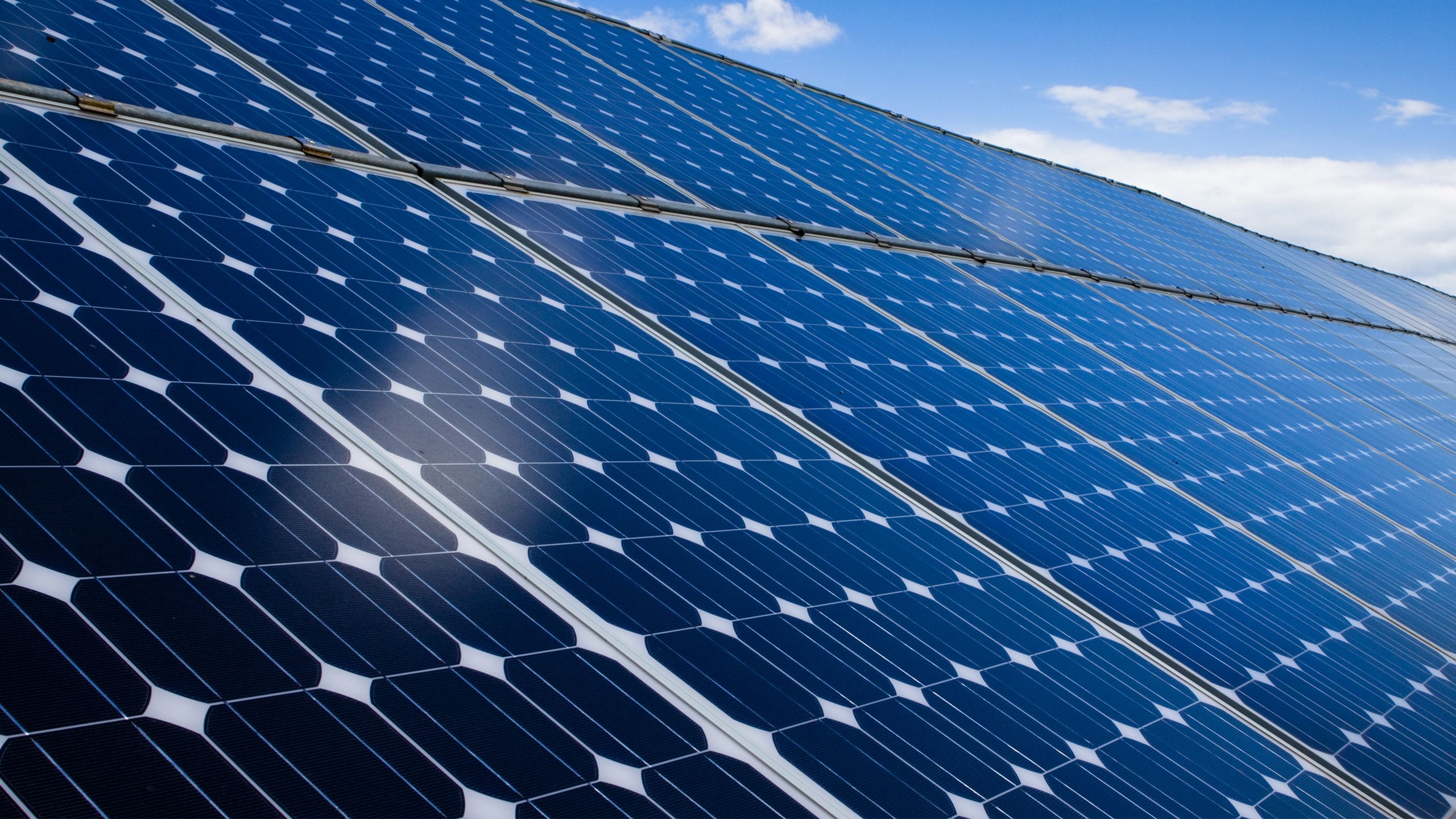 "The SuperSolar partners are a complementary mix of researchers who have internationally recognised expertise across the field of photovoltaic energy generation."
Professor Mike Walls, Professor of Photovoltaics for Power Systems and SuperSolar Director

WHAT CAN THE SUN DO FOR US?
Before we get into the research that is transforming the way we generate energy – what are the benefits of using the sun to power our everyday activities?
A recent report by the independent Energy Watch Group predicted that solar could provide a remarkable 70% of the world's total energy by 2050 (Solar Commission Report). This is due to the pace at which technology in the area is developing as well as the potential it presents and long-term advantages.
At present, domestic solar panels are virtually maintenance free and once installed, there are no recurring costs. Solar power is also one of the cleanest sources of energy – it's noise pollution free and doesn't require any additional fuel, other than sunlight, to produce power.
Although the development of solar energy is showing great potential to become a replacement for fossil fuels, there are still problems to be solved and breakthroughs to be achieved. The collaborative work of CREST and the SuperSolar Network is doing just that.
PIONEERING RESEARCH
Recent research at CREST has focused on next generation PV cells that use cadmium telluride (CdTe), rather than silicon, as the light harvesting layer. This technology has the potential to produce electricity more efficiently and at lower costs than conventional solar panels.
In May 2019, CREST researchers and their international collaborators published an article in Nature Energy outlining how the addition of selenium helps increase the stability and efficiency of CdTe solar cells.
The leading global manufacturer of CdTe solar cells, First Solar Inc, was quick to note the importance of this research, hailing the findings as 'an important step towards unveiling the role of selenium alloying in reducing charge recombination, thereby paving the way for improving the design of PV materials and devices.'
SuperSolar Director, Professor Mike Walls, who is overseeing the ongoing research, commented:
"Now that we know how the selenium improves the solar cell efficiency, it should be possible to improve the power output still further.
"It's a great example of an international team working together – contributing their expertise and facilities and developing a fundamental understanding of how devices really work."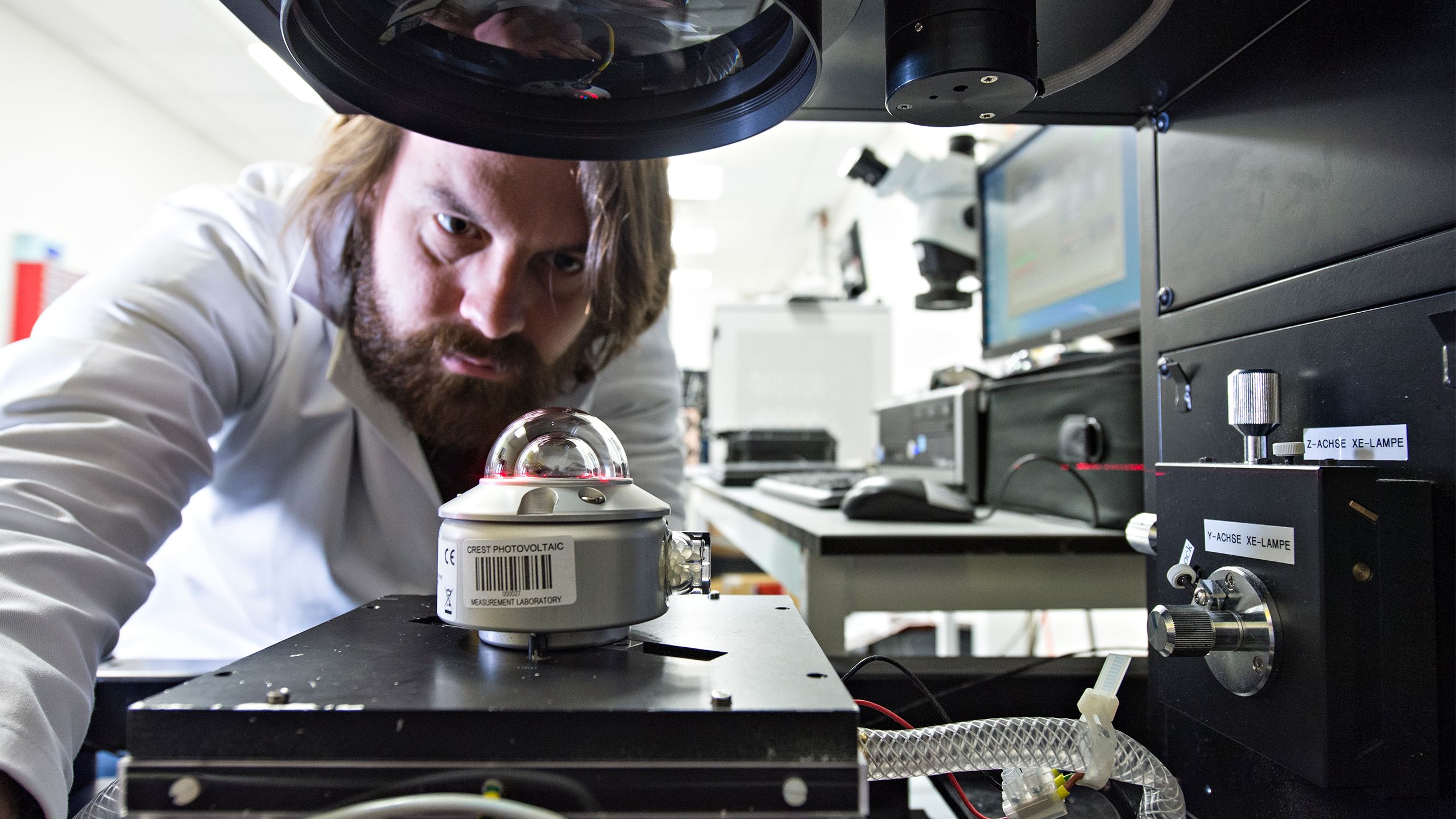 THE RISE OF THE PEROVSKITE SOLAR CELLS
The disruptive emergence of another new type of PV cell – perovskite solar cells – clearly demonstrates the success of SuperSolar in accelerating technologies.
Some types of the mineral perovskite are semiconductors, but seemed to have only very limited application as PV materials. That is, until 2012, when SuperSolar partner Professor Henry Snaith (University of Oxford) discovered their potential as photovoltaic materials, making perovskite PV a realistic proposition.
SuperSolar has since been the focal point for UK researchers to capitalise on the emergence of perovskite PV.
The materials and manufacturing processes used are comparatively low cost. They have a high absorption coefficient, capable of absorbing the complete visible solar spectrum, and the cells themselves can be ultra-thin, lightweight and flexible – broadening their range of applications.
SuperSolar quickly recognised the importance of the new technology and used its flexible research funding to mobilise complementary research across its member network. This means that UK researchers are leaders in what has rapidly become one of the most research-intensive fields, where thousands of publications are being produced each year and generating global interest across the solar sector.
University of Oxford spin-out company, Oxford PV Ltd, is poised to commercialise this breakthrough solar cell technology after raising investment backing of $100 million.
Loughborough has contributed to the technology surrounding perovskite PV, developing a bespoke anti-reflection coating and novel transparent conductor tuned to optimise perovskite solar cells.
"Perovskite PV is widely considered the fastest-advancing solar technology ever. By working together, SuperSolar has been able to quickly mobilise its available resources to target perovskites as exciting third generation PV materials."
Professor Mike Walls, Professor of Photovoltaics for Power Systems at Loughborough University and SuperSolar Director

UNIQUE TESTING CAPABILITIES
The network also offers unique testing facilities to both commercial and research organisations, right here on the Loughborough campus.
In 2016, the University established the CREST PV Measurement and Calibration Laboratory (CPVMCL) led by Dr Tom Betts.
Unique to the UK and one of only nine such facilities worldwide, the Lab has the necessary accreditation to provide PV cell efficiency measurements for the NREL Best Research Cell Efficiency Chart – the global reference table in the fast-moving world of solar cell efficiency.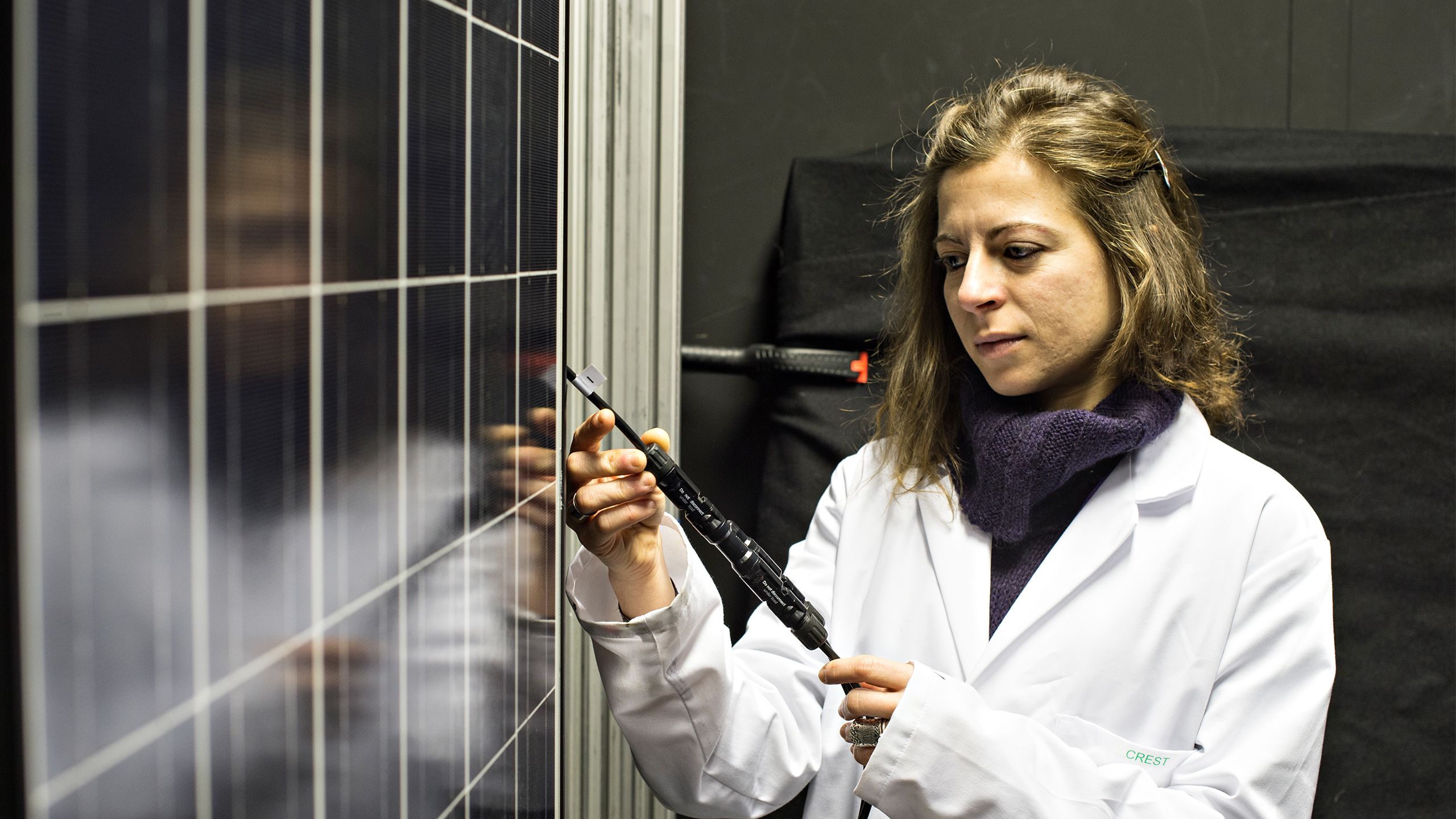 "CPVMCL's services includes power and efficiency measurements of modules, fault analysis, and due diligence for photovoltaic systems. By accessing our expertise and facilities partners can be confident that their technologies are tested to the highest level of excellence in accordance with the latest international standards."
Dr Tom Betts, Reader in Applied Photovoltaics, Loughborough University

SUPPORTING SUSTAINABLE ENERGY FOR PRESENT AND FUTURE GENERATIONS
In support of building for the future, the SUPERGEN SuperSolar Network also provides a diverse programme of events for the UK solar community, training for early stage researchers, and funding for international and industrial research secondments, conference attendance and research projects.
For over 20 years, CREST has overseen the research and development of some of the most progressive renewable energy technologies - new technologies that have the potential to develop viable fossil fuel alternatives.
As the need for alternative power sources increases, CREST continues to instigate, lead and deliver high quality, original research, and collaborates with industry and international academic networks to successfully address global energy challenge.
Photo credits