The positive COVID results worth celebrating
How one of the most challenging times in the University's history became one of our proudest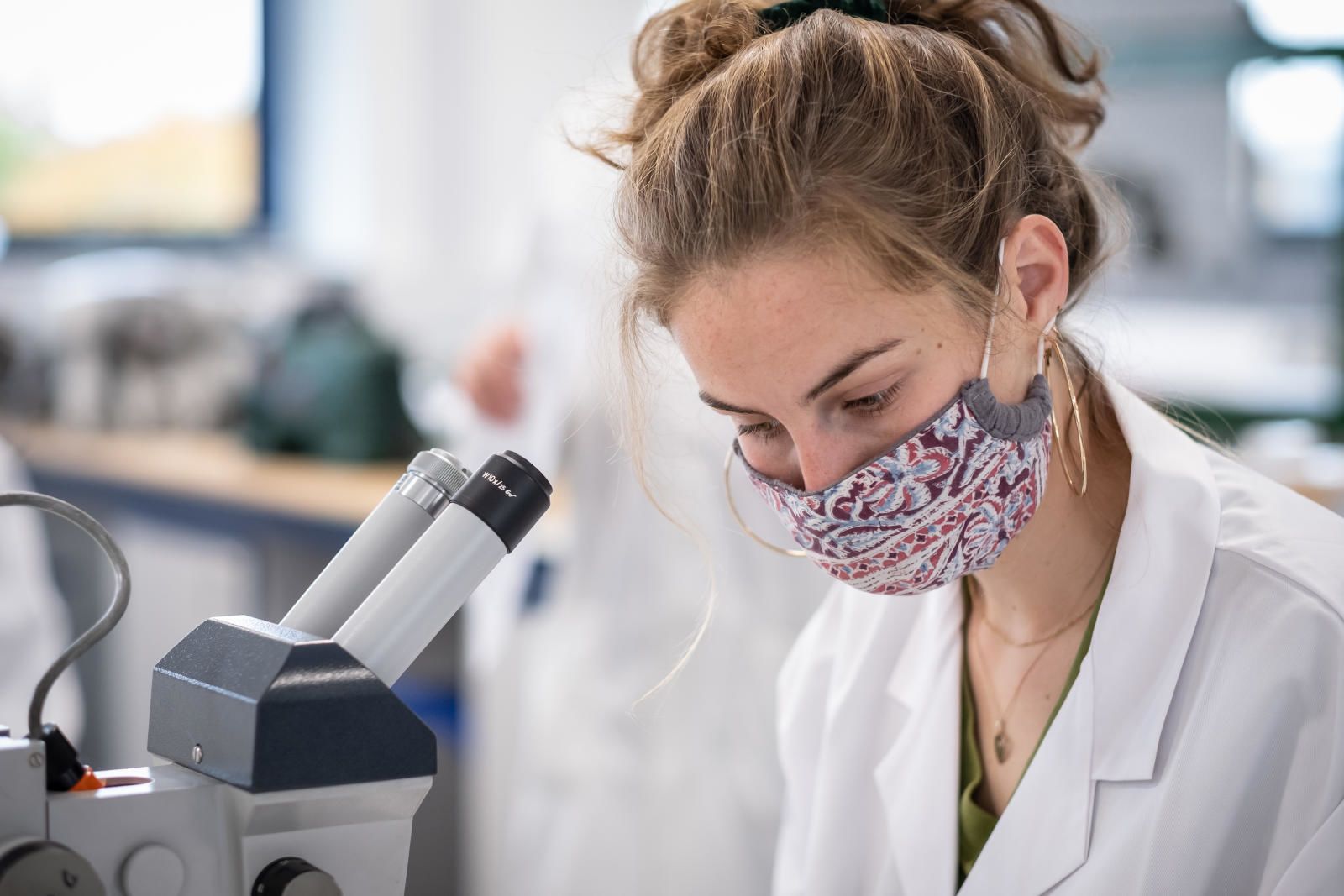 COVID-19 caused the whole world to come to a standstill as countries locked down and put restrictions in place, to control the spread of the virus. Life as we knew it changed overnight.
As a university, there were many challenges to overcome. Our community pulled together to tackle these issues head-on, with some incredible results. Positive results that were worth celebrating.
We were able to give back to society by supporting others through our actions. We grew our networks and as a result our influence. We formed new partnerships and collaborations that continue to flourish.
In recognition of this, we've been shortlisted for the Times Higher Education (THE) University of the Year award. Here, we look in greater detail at how during a time of concern and deep challenge, we created the positive results needed.
What we achieved during the pandemic, and this resulting award nomination, are all thanks to the hard work and dedication of the staff and students involved.
AN INFLUENTIAL FORCE
From the beginning of the pandemic, the University took a proactive approach to the challenges we faced. An approach that enabled us to run a successful academic year in the most trying of circumstances and set a leading example to others within the sector.
Loughborough became a driving force behind the national approaches and policies that enabled higher education institutions (HEIs) to effectively operate during the pandemic.
SUPPORTING THE SECTOR
Neil Budworth, Director of Health, Safety and Wellbeing at the University, was a leading figure in this activity, representing the University at regular meetings with organisations such as the Department for Education, Universities UK, Public Health England, the NHS, the Office for National Statistics, and the Universities and Colleges Employers Association.
As Chair of USHA (Universities Safety and Health Association), Neil attended the University Settings Meeting with Public Health England and the Department for Education. The weekly meetings looked at the impact COVID was having and what needed to be done. Neil acted as a voice for universities, providing the realities that were being faced by HEIs at the time.
For example, following the initial lockdown period in 2020, the Department for Education wanted to understand how ready universities were to resume face-to-face teaching. By gathering honest feedback from universities across the country, Neil was able to provide an accurate picture of what was happening at the time.
This approach built trust between the parties and also enabled the group to look at the impacts a policy could have on different types of institutions. Such as campus-based universities compared to city-based institutions.
Other meetings and issues the University provided an influential contribution to included:
The University's work with various groups led to us becoming a trusted partner for the sector. If a group needed to know or understand something, they came to us first. Our work and approach also informed WHO and UNESCO's thinking on education and COVID-19.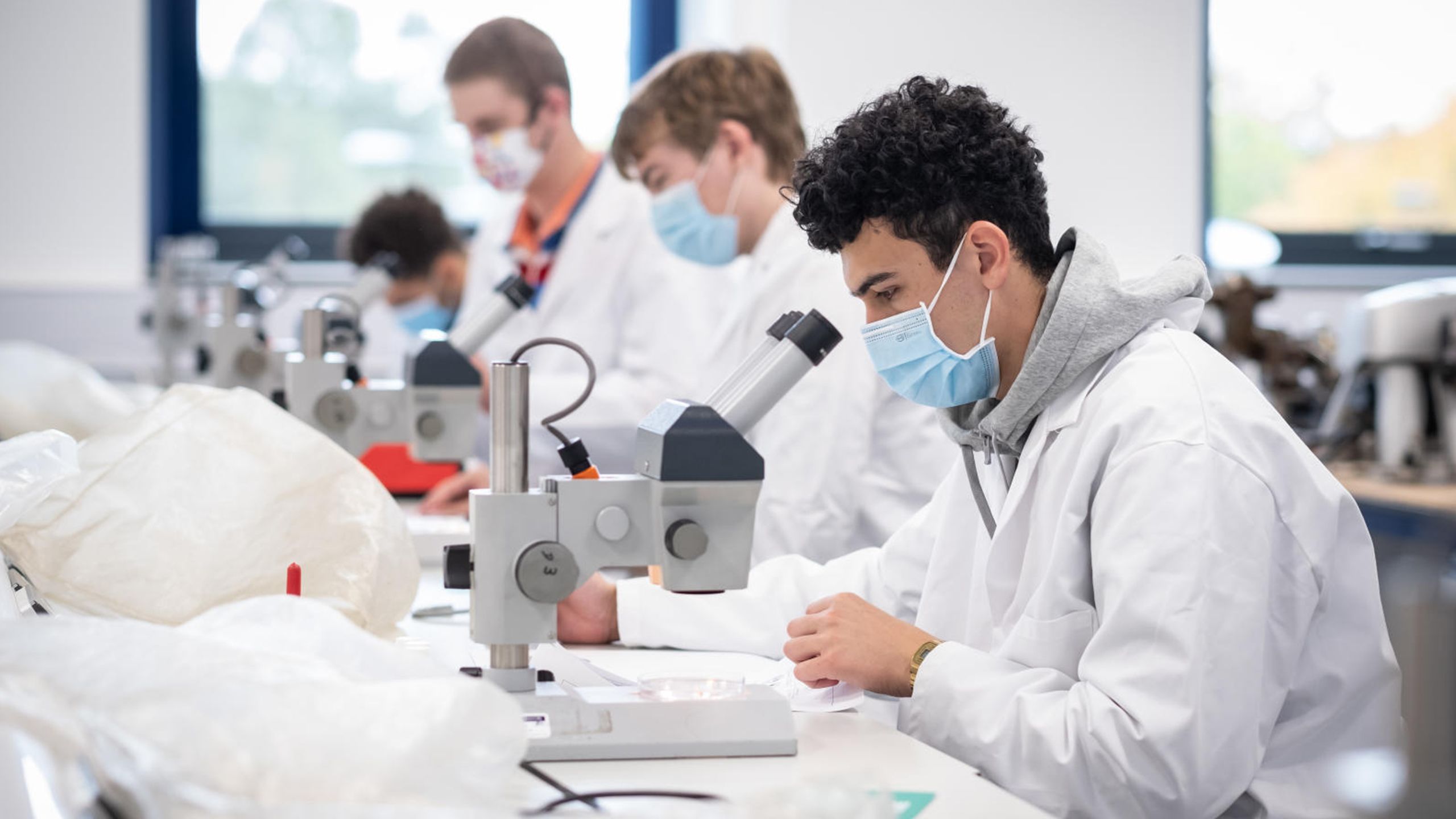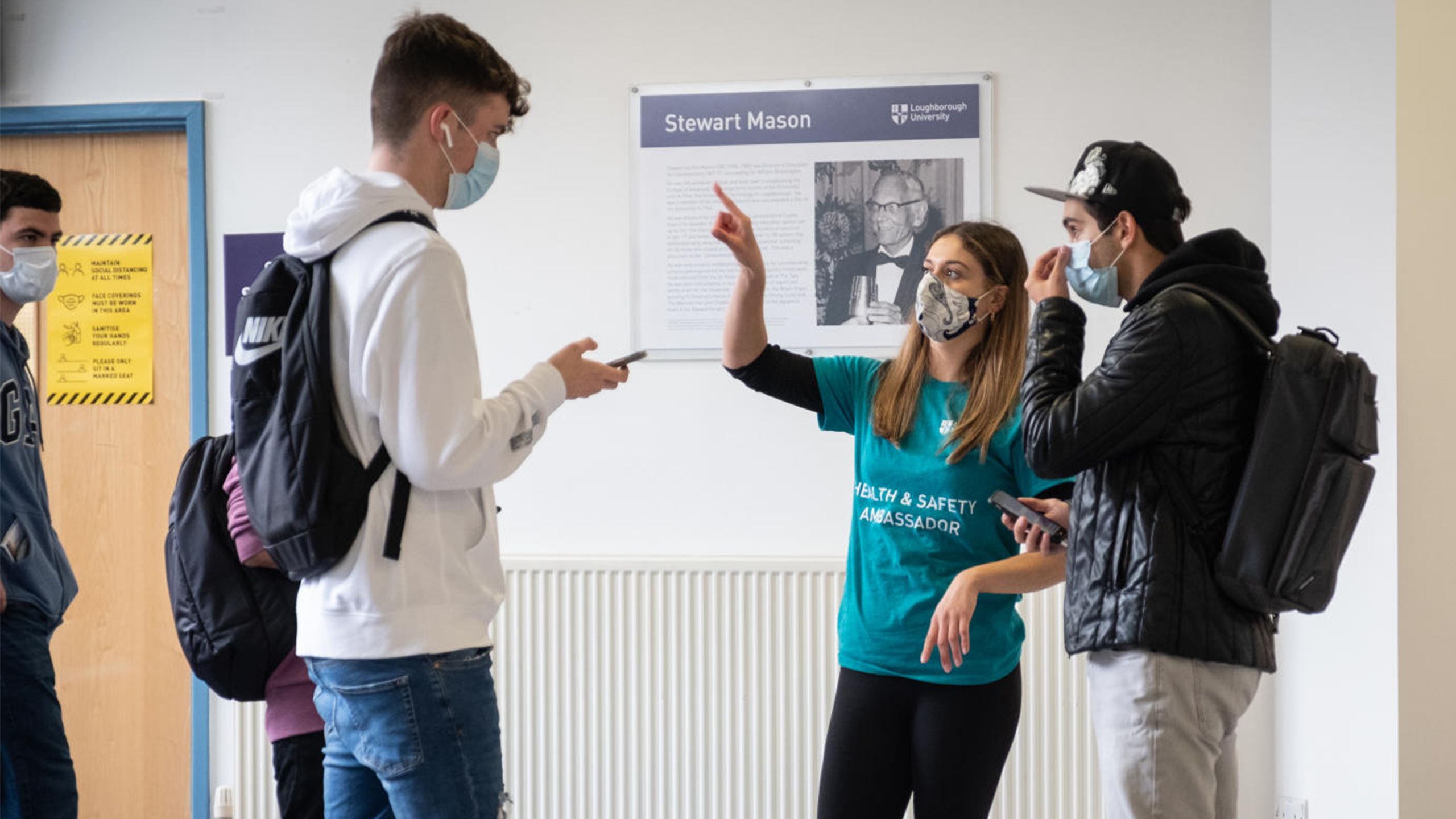 INFLUENCING THROUGH ACTIONS
Despite widespread disruption, once the first lockdown was lifted, the University was able to safely welcome students back to campus, and many aspects of the strategy we took were deemed sector- leading.
This was down to strong preparation, which allowed us to retain control and maintain the confidence of our community throughout.
Managing the situation on campus
The day-to-day management of the pandemic at the University was coordinated by the University's COVID Response Group. The group, which was made up of individuals integral to the response from across various departments, used their knowledge, insight and experience to create the measures and functions that were put into place across both the Loughborough and London campuses.
The official national guidelines issued to HEIs by UCEA, that informed the return to campus, were based on work developed by the University's COVID Response Group.
The University produced detailed guidance on how social distancing should be applied within a higher education setting, taking into consideration all elements of university life.
This approach and the guidance to support it was new at the time, so the University shared it with the sector, and it became the benchmark for most higher education institutions.
Health and safety when making plans for resuming various activities on campus was managed in partnership with union colleagues.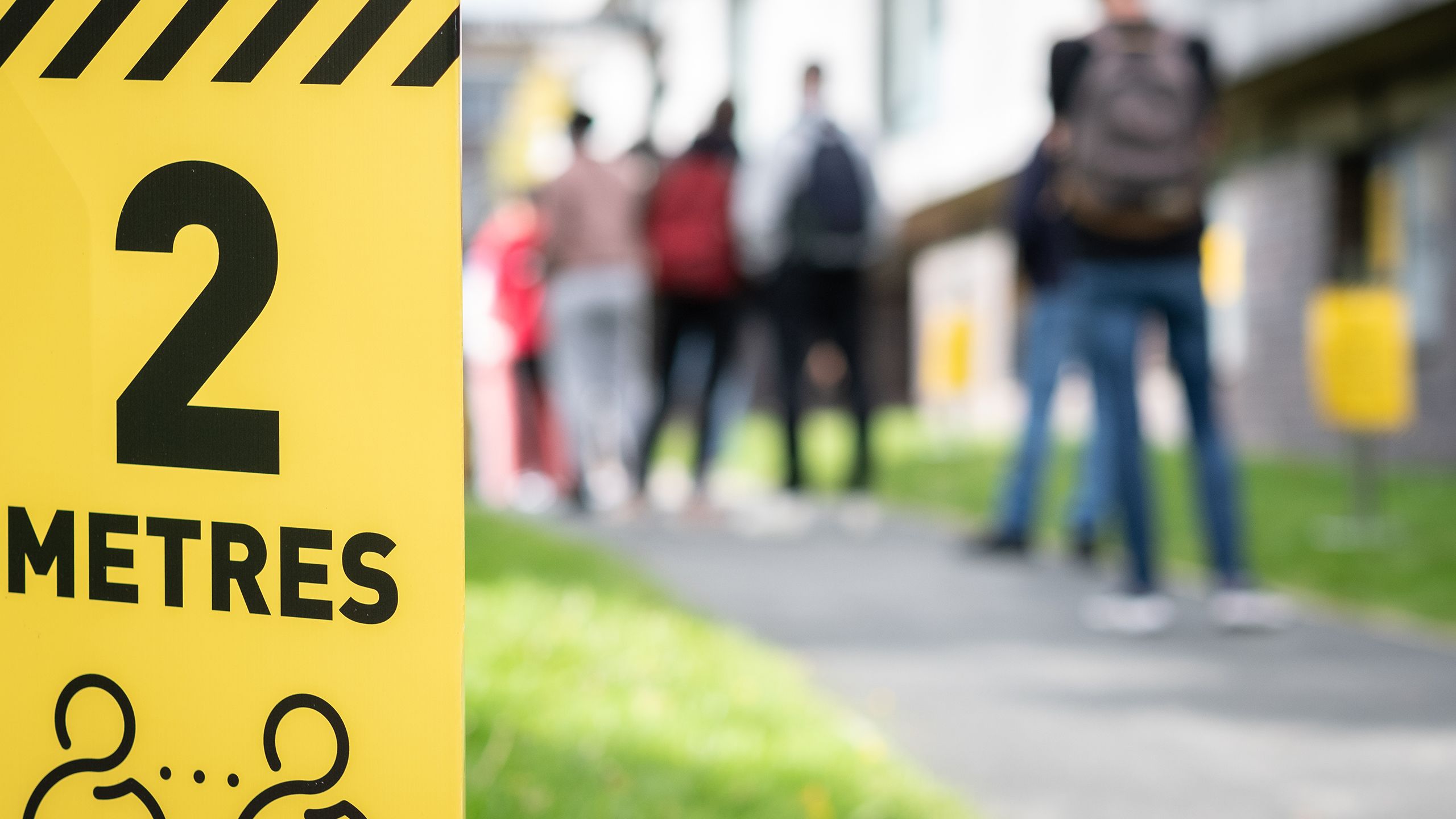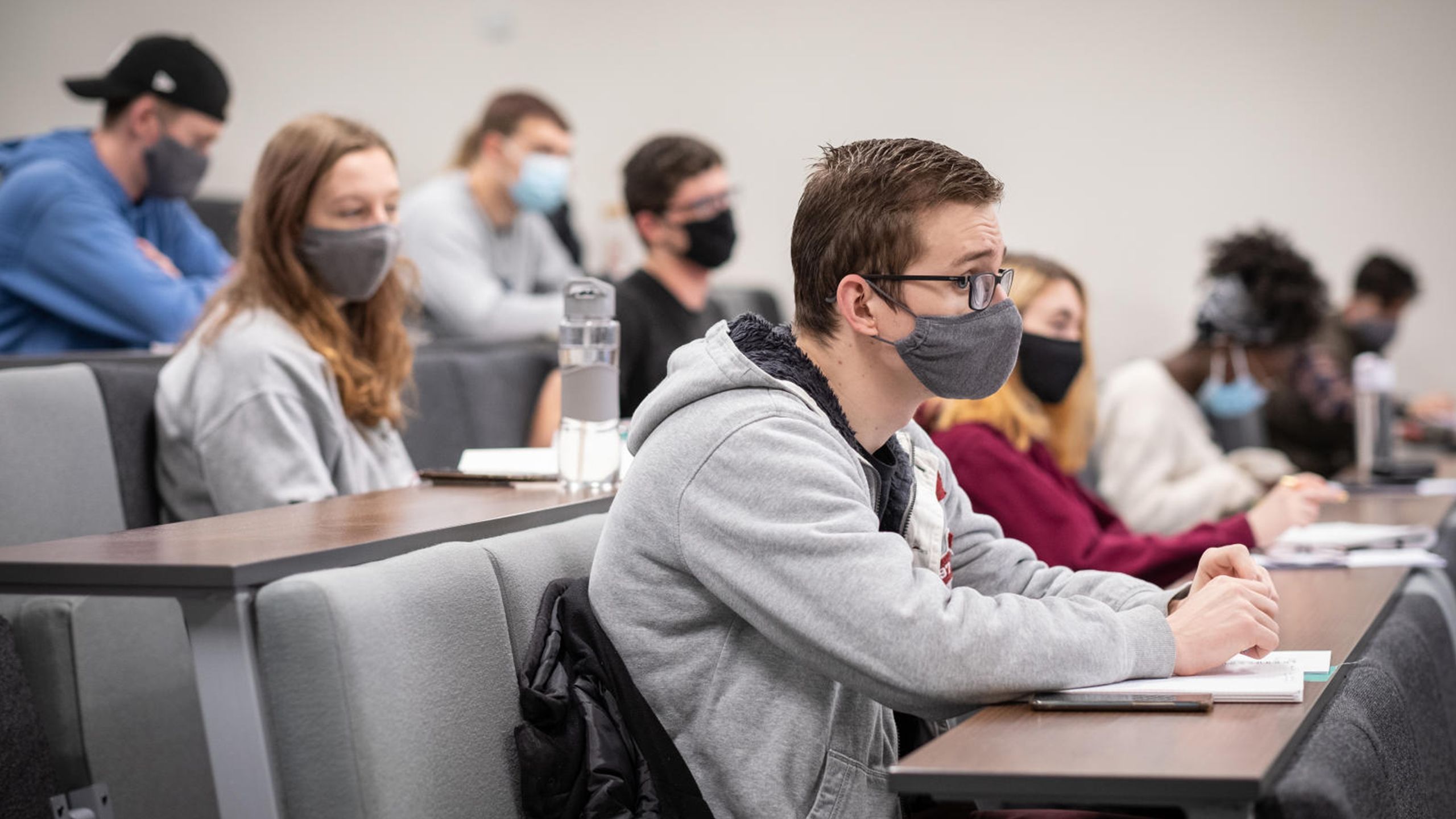 "I was proud to be a member of Loughborough University because I could stand and say Loughborough University is doing this, we're doing that."
Irvin Hendrickson, Unison Branch Secretary, Loughborough University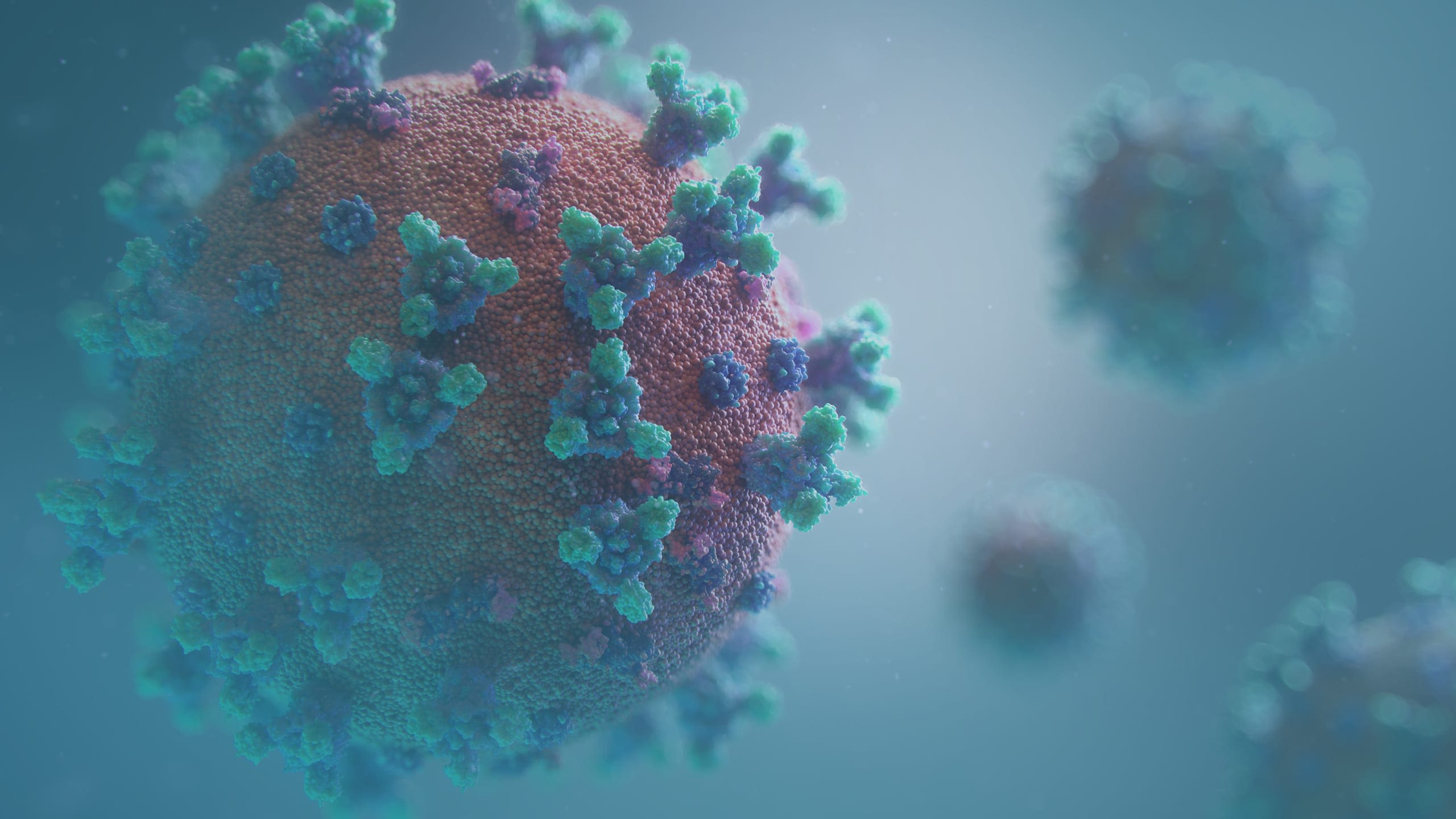 Testing
Our incredible testing programme also supported the resumption of activity across our campuses. The testing process was extremely well executed. The University's testing team were one of the first high-output testing facilities in higher education and helped many other institutions and schools to establish their own testing programmes.
Our PCR test facility enabled symptomatic cases to be tested onsite within minutes, meaning households were not isolated unnecessarily and pastoral and logistical responses could be rapid.
The University also implemented a thorough and co-ordinated asymptomatic testing facility, which led to over 90% of students and staff being tested regularly. This aspect of our testing programme gave assurance to staff and students on campus as well as the wider community.
The combination of a good set-up and the drive to ensure everybody was being tested also created brilliant data, which enhanced the University's approach to managing the virus, beyond what others were doing.
The University helped to develop things such as the approach to lateral flow testing. We became a test bed for the sector. We weren't the first to get lateral flow testing, but we were the first of the mass group and one of only two or three universities that trialled wastewater testing.
An implementation group for higher education was also developed to look at how testing would be rolled out and monitored across the sector. Loughborough acted as the sector representative, working on behalf of PHE and the DfE.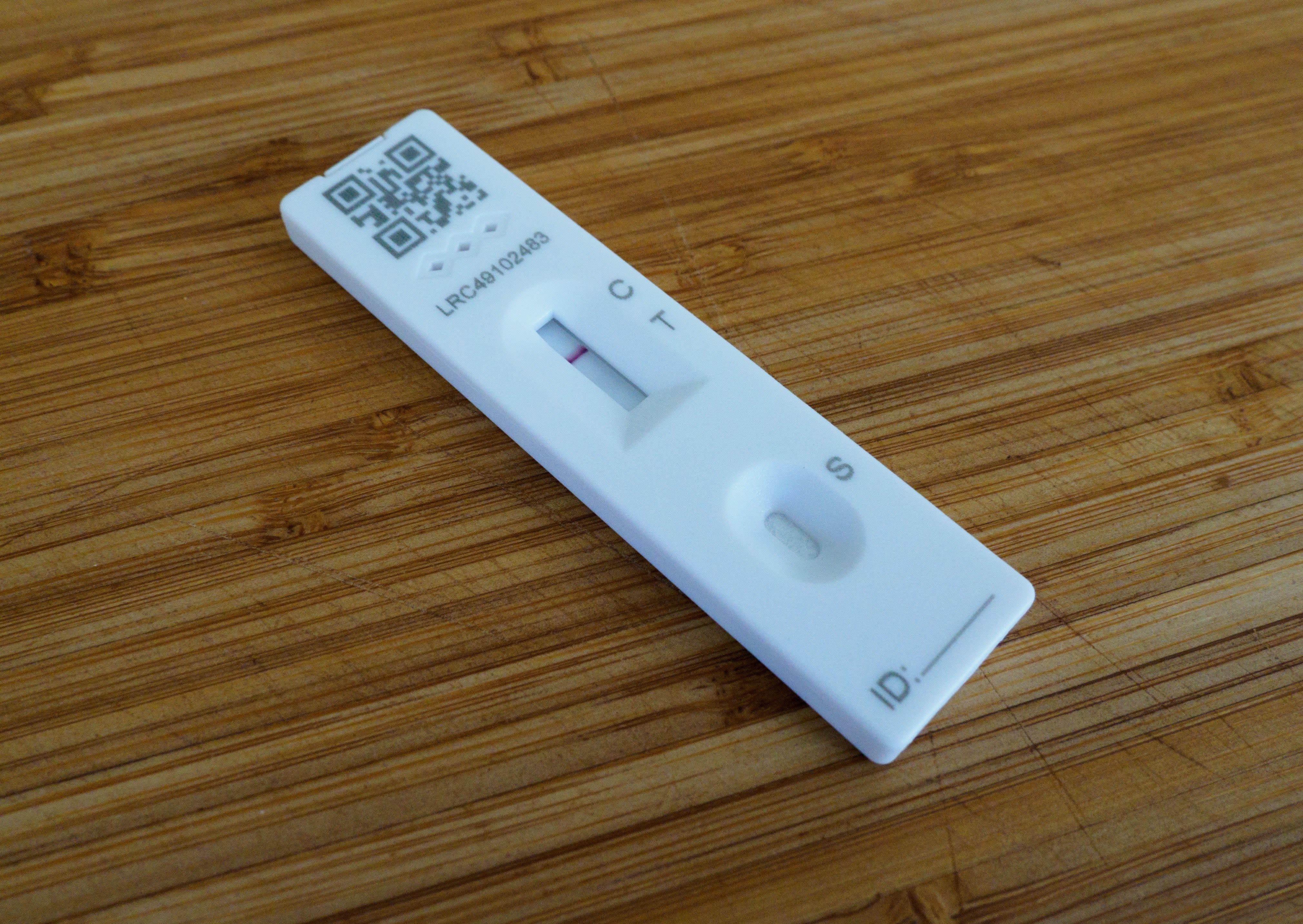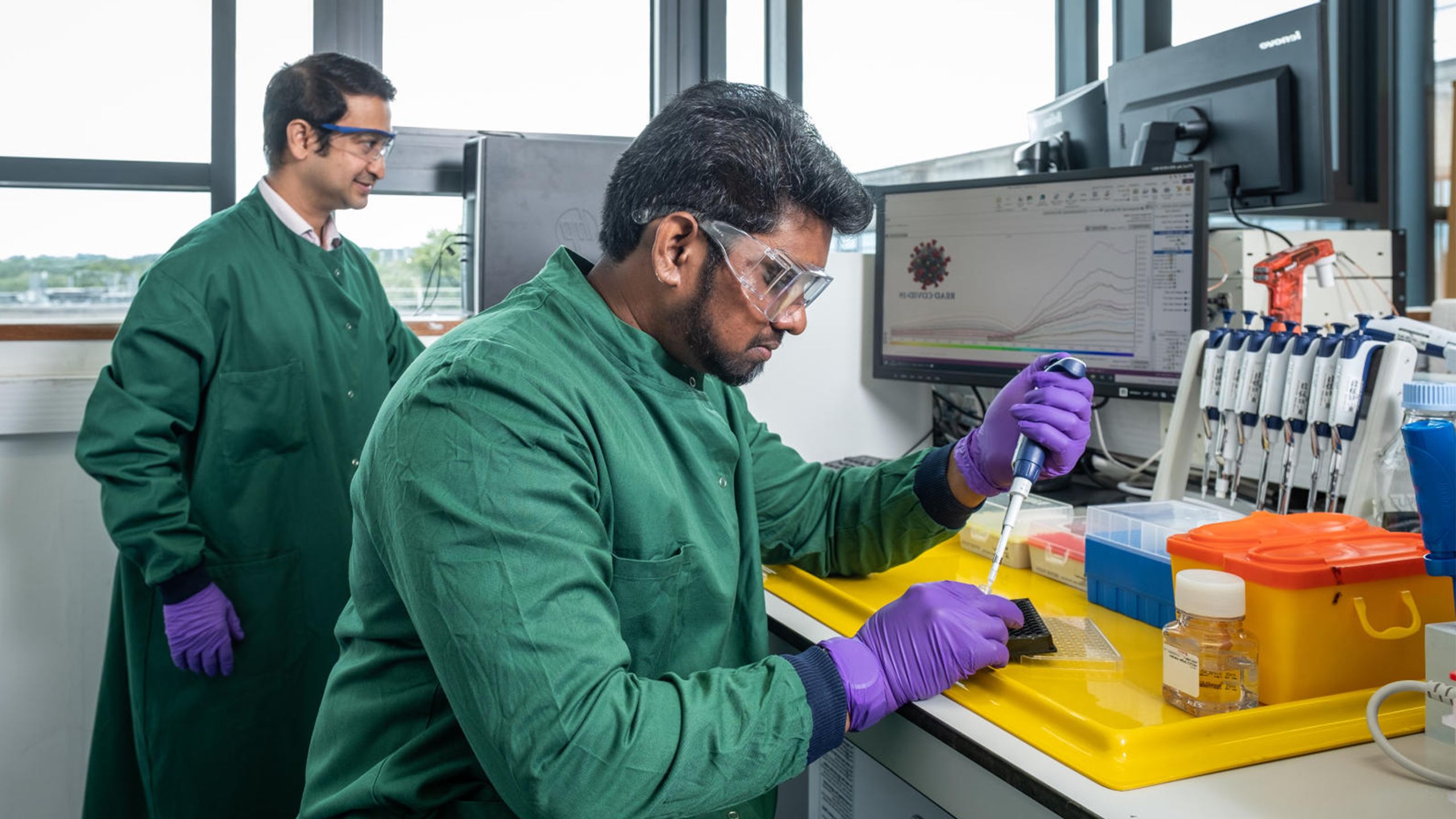 "The testing was incredible. I remember being really impressed they had their own testing centre because a lot of my friends at different universities didn't have that."
Loughborough Student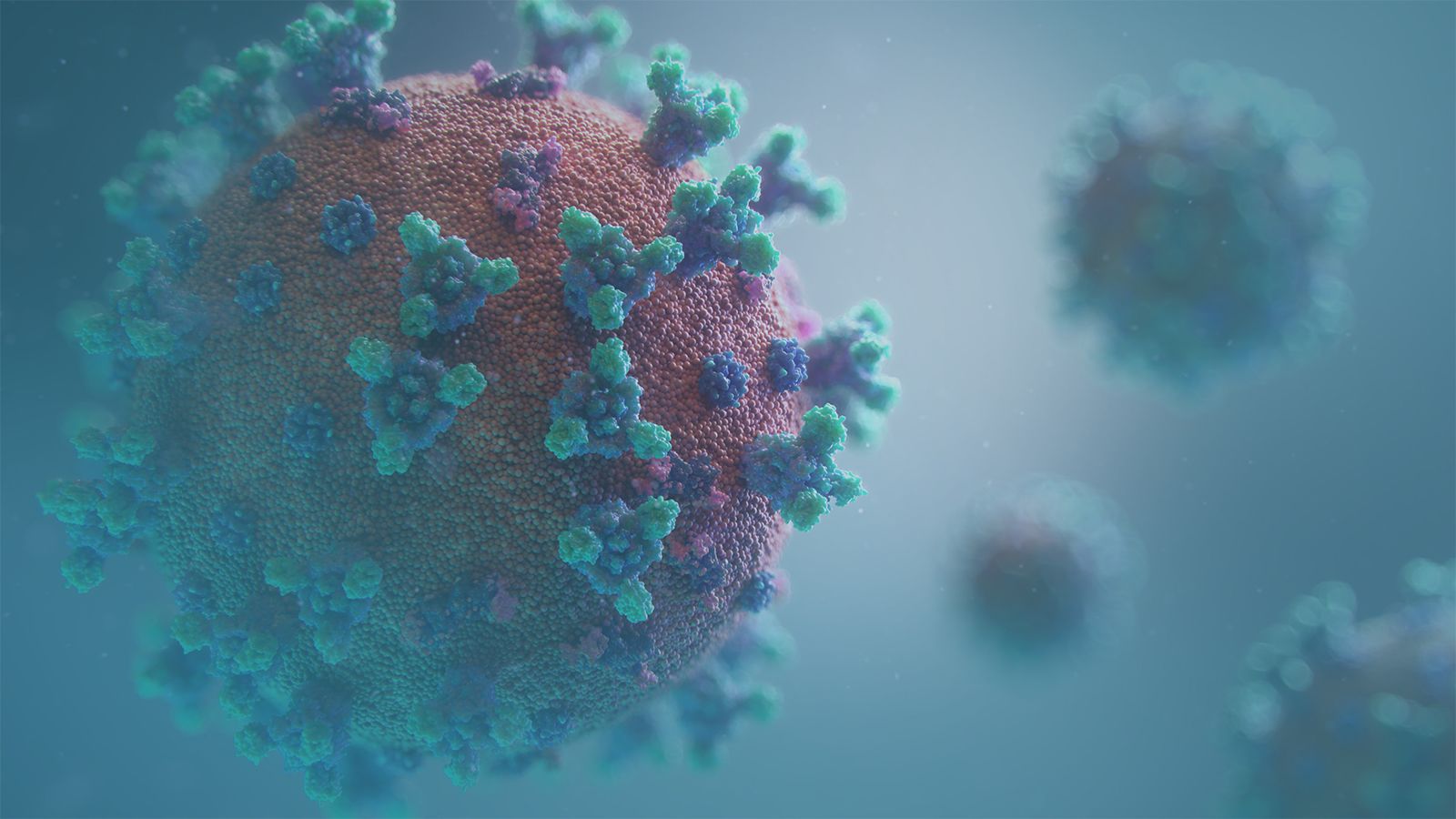 The data behind testing
The quality of the data we garnered from testing and the speed at which we collected it meant that we were able to show what was happening on campus and explain it.
Our data enabled us to:
Interpret what was going on in terms of levels of infection.
Identify the reasons behind any increases in the number of infections, even down to what was happening in individual halls and rooms.
Show what happened following specific events - both on and off campus - such as the UEFA European Football Championship, the impact of Omicron, and the impact of vaccinations.
No other British university was able to create such a rich data set.
This meant that we were able to advise the sector on what was and wasn't working and provide extensive data to the Office for National Statistics, which is now being analysed by government agencies to see what lessons can be learned from the pandemic.
Tracking
Testing alone couldn't have produced this level of extensive data. The results had to be followed up.
Software and processes were put in place meaning the University had excellent real-time information on all cases – enabling planning, outbreak management, effective logistics and pastoral responses.
Over 100 staff volunteered their time to support the COVID Logistics Hub, which helped deliver food supplies and essential services to isolating students, as well as advice and guidance to individuals across the University community.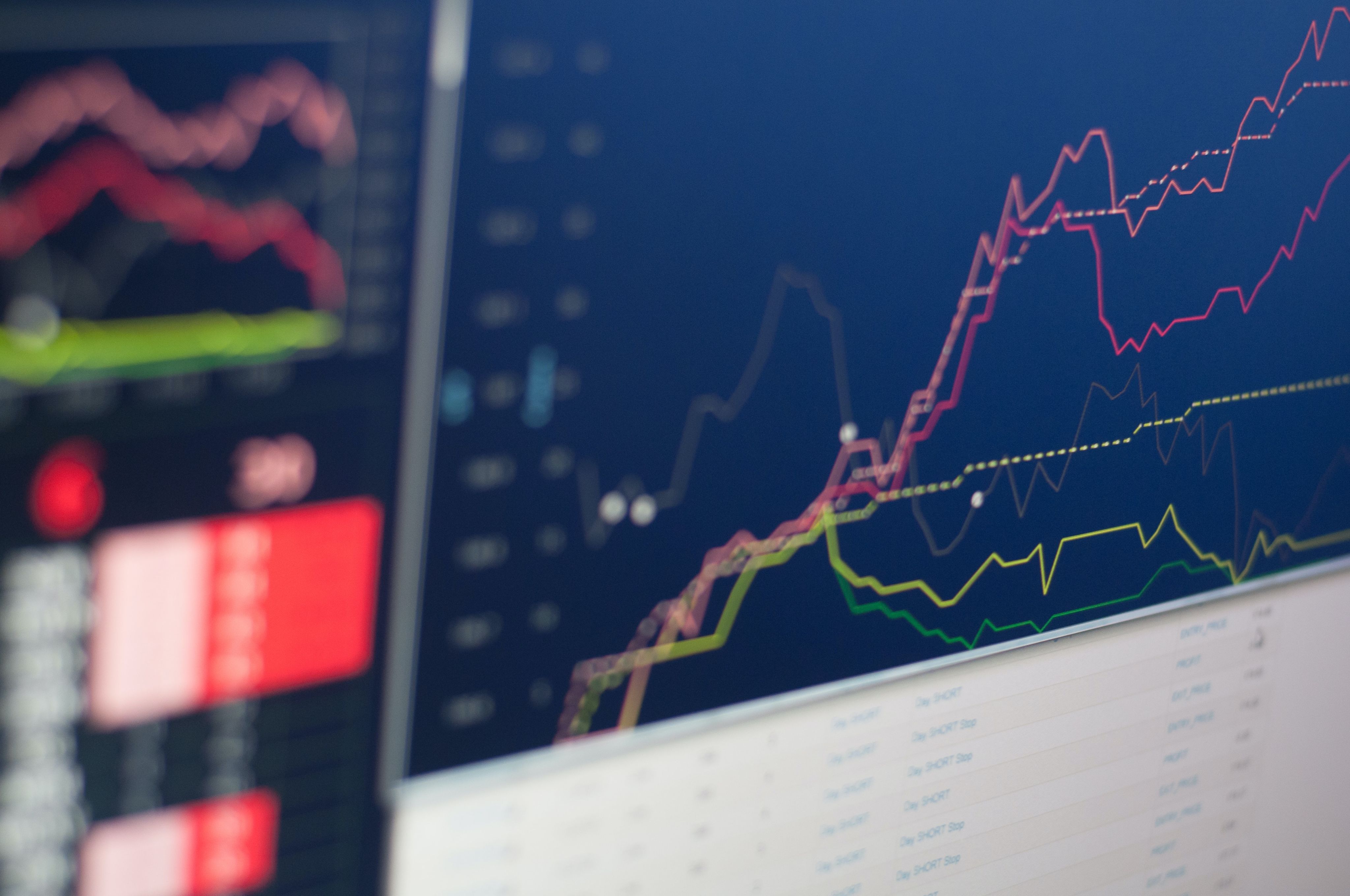 "Every base had been covered. Loughborough absolutely got it spot on when it came to self-isolating students. The University provided the consistent response, the essentials that were needed."
Matt Youngs, President of Loughborough Students' Union 2020-21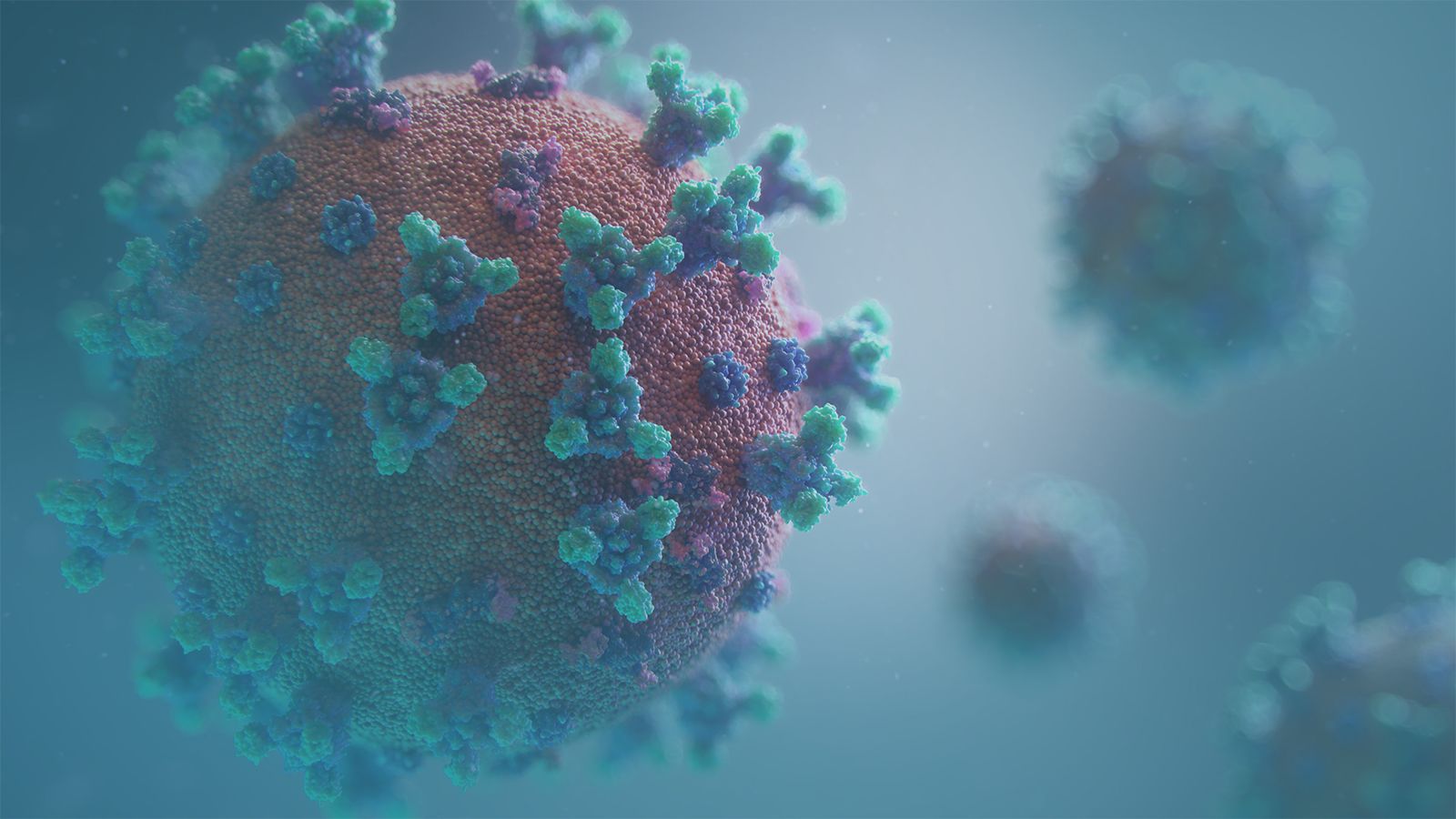 Support for our community
Many elements of the support we provided received high praise, not just from those in the sector, but those that were impacted directly by it, our students and their loved ones.
"Within a couple of hours of being notified that they had to isolate, food had arrived and wellbeing had phoned them to talk through everything. The Vice-Chancellor then turned up to talk to them through the glass, to provide moral support. Things like that may seem really small, but that's huge."
Below are just some of the ways in which our students were supported during various stages of the pandemic.
Support fund – Over £85,000 was raised to support students that faced financial difficulties.
When teaching was suspended due to lockdown, students in residence were offered an immediate rebate on accommodation fees.
When safe to do so, all students had a minimum level of in-person teaching, with a re-designed tutorial system to provide 1-1 support.
On returning to campus, safe and compliant social activities were planned and facilitated.
Graduation was adapted to be delivered in a safe manner – we were one of very few universities to deliver graduation ceremonies in-person in 2021.
Over 120,000 meals were provided for students living on campus, free of charge, during the period of their isolation.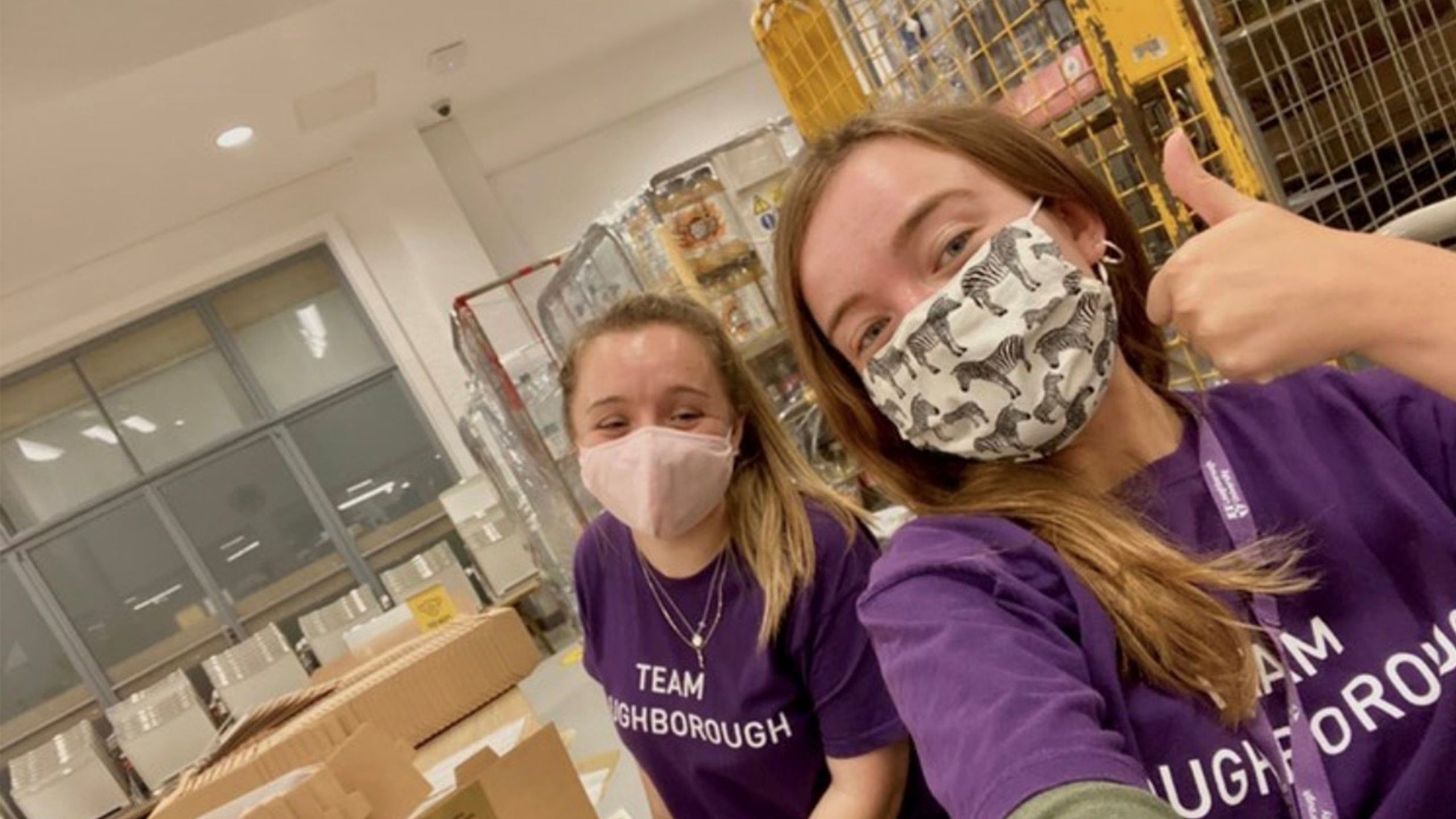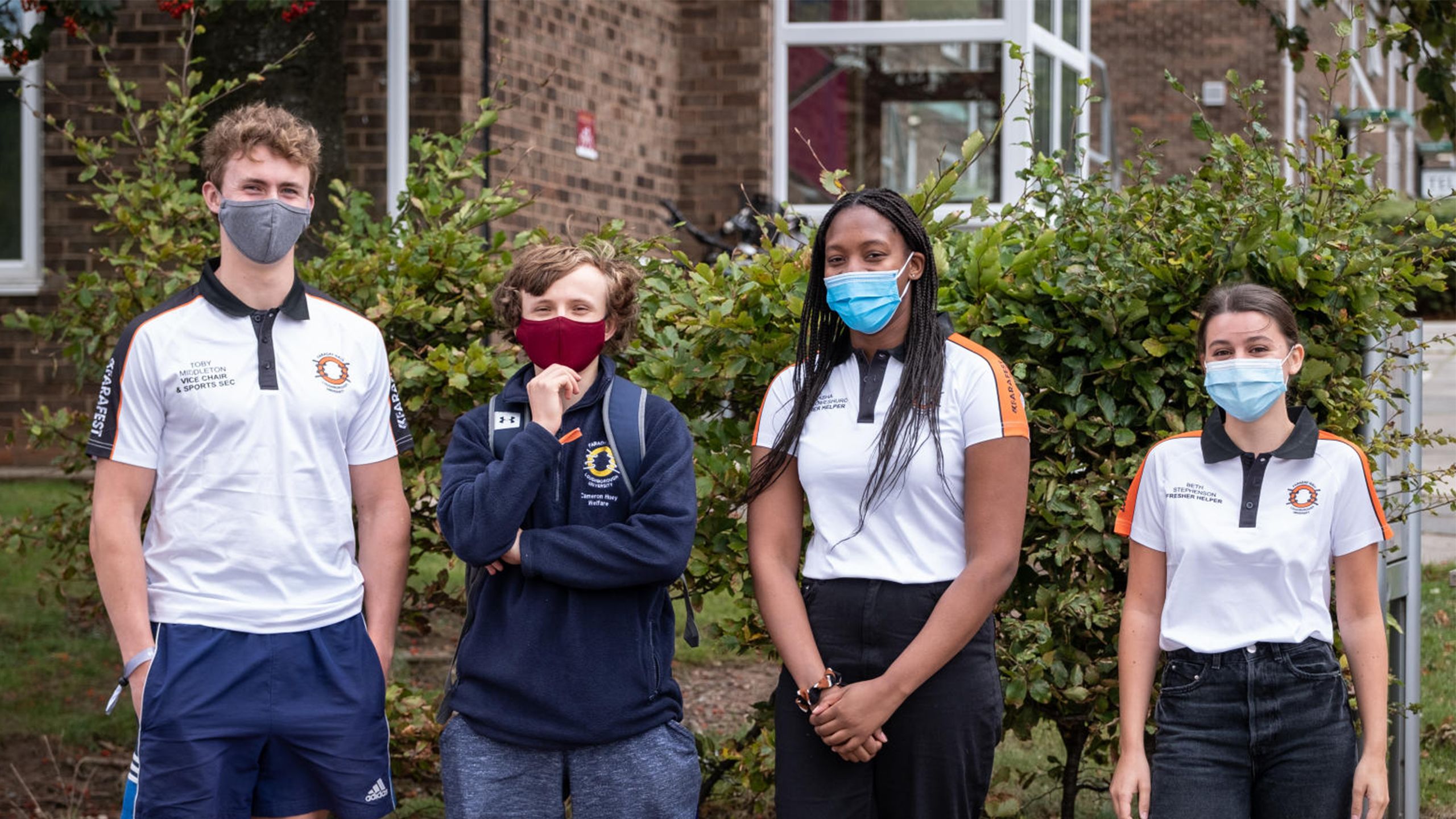 "We can proudly say that we did right by our young people at a time of significant crisis."
Professor Nick Jennings, Vice-Chancellor and President of Loughborough University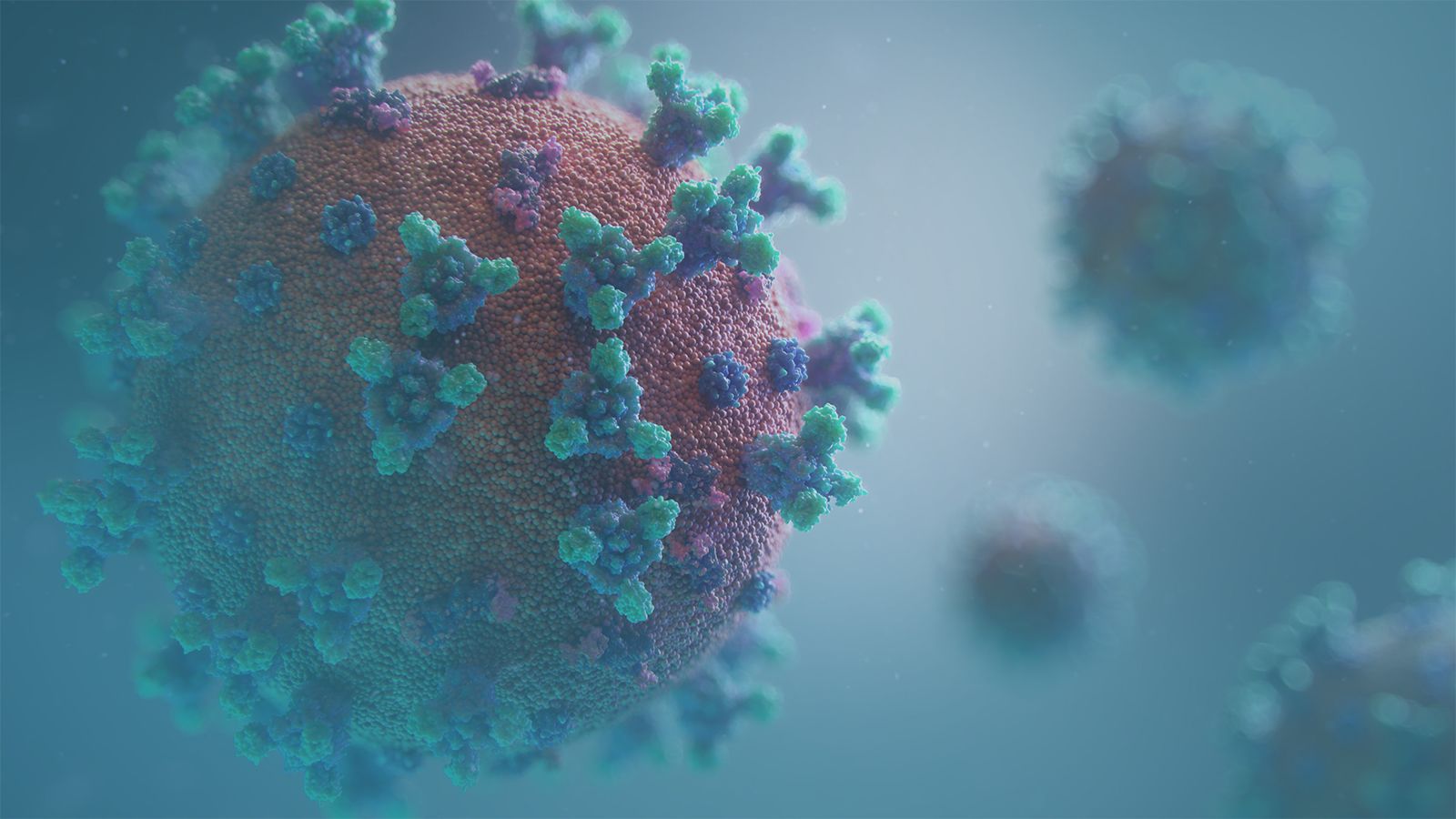 SUCCESSFUL OUTCOMES
The work that went into delivering the University's response to the pandemic was no small feat: hundreds of staff and students were involved.
The reaction we received from our students and their families, our staff, and the wider sector, highlights the positives that were derived from a challenging situation.
The University also benefitted from several other positive outcomes, owing to the approach we took.
The University's National Student Survey (NSS) score subsequently held up far more effectively than that of peers.
Research activity resumed on campus as soon as it was safe to do so, which led to a positive performance in attracting new research funding and strong results in the REF 2021.
There was no transmission of COVID-19 in the teaching environment.
"I think that Loughborough really put students at the heart of all the decisions they made in relation to the pandemic."
Most of the University's contact with different bodies has continued post-pandemic, as they've found that the information we can provide is really helpful. For many government bodies such as the Department for Education and Public Health England, we've become an established link for if they want to know what's happening in the sector.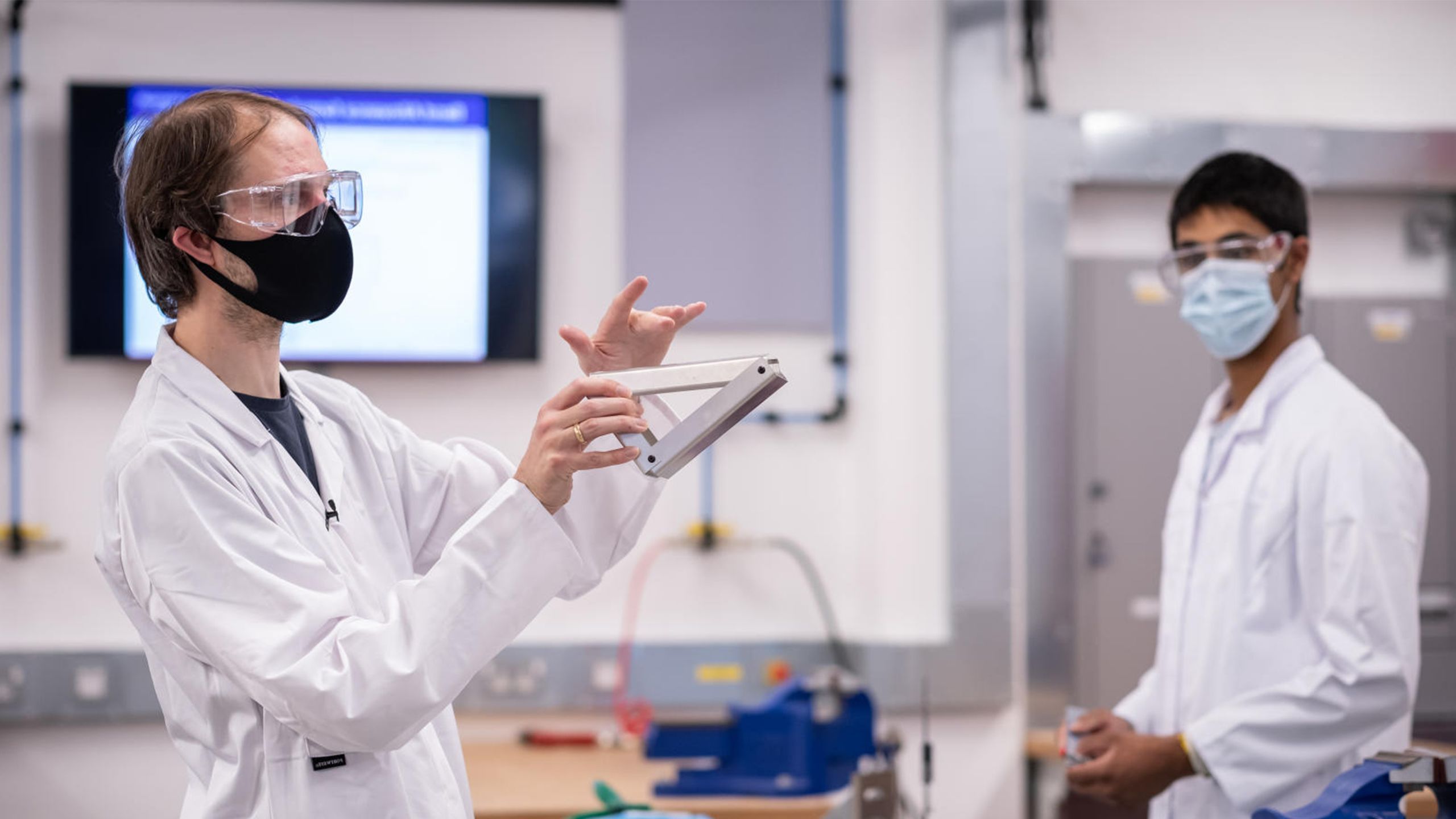 RESEARCH WITH IMPACT
As illustrated above, the University was involved in many collaborations throughout the pandemic, but it wasn't just our approach to managing the pandemic within our institution that proved influential, our research did too.
Researchers across the University used their expertise to support the growing issues that the pandemic presented. Many changed the direction of their work, to provide insight, answers and guidance to one of the biggest societal challenges of recent times.
GETTING LARGE SCALE EVENTS BACK UP AND RUNNING
One such group of researchers was Professor Malcolm Cook and his team from the School of Architecture, Building and Civil Engineering. The team led a study that helped to create guidance on how to design and operate non-domestic buildings to minimise the risk of airborne transmission of COVID-19 and other viruses.
The government-funded AIRBODS (Airborne Infection Reduction through Building Operation and Design for SARS-CoV-2) project saw the University working with both the Engineering and Physical Sciences Research Council (EPSRC) and the Department for Culture, Media and Sport (DCMS), as part of what became the government's Events Research Programme (ERP) – which ended up being the largest of its kind ever initiated by any government in the world.
A series of test events were set up at several venues capable of holding mass attendance events, including the O2 arena, Wembley Stadium, a nightclub event in Liverpool and the Crucible in Sheffield. The trials essentially measured the air quality and used certain components and chemicals in the air to determine what the likely transmission rate would be if there had been an infected person there.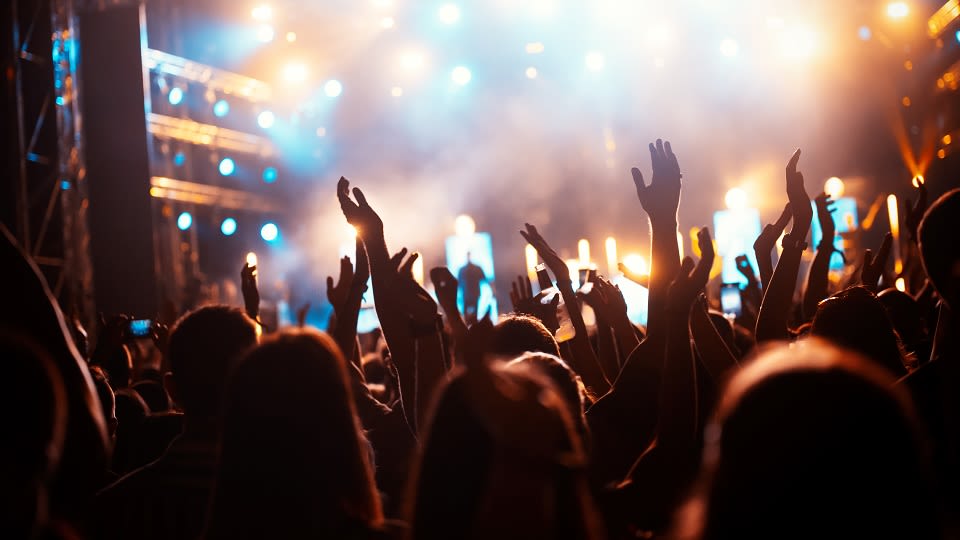 "Schools, hospitals and homes are poorly ventilated in the UK, so I could see the opportunity from the outset. It was no surprise when the cases rocketed, because our ventilation just isn't good enough."
Professor Malcolm Cook, Dean and Professor of Building Performance Analysis, School of Architecture, Building and Civil Engineering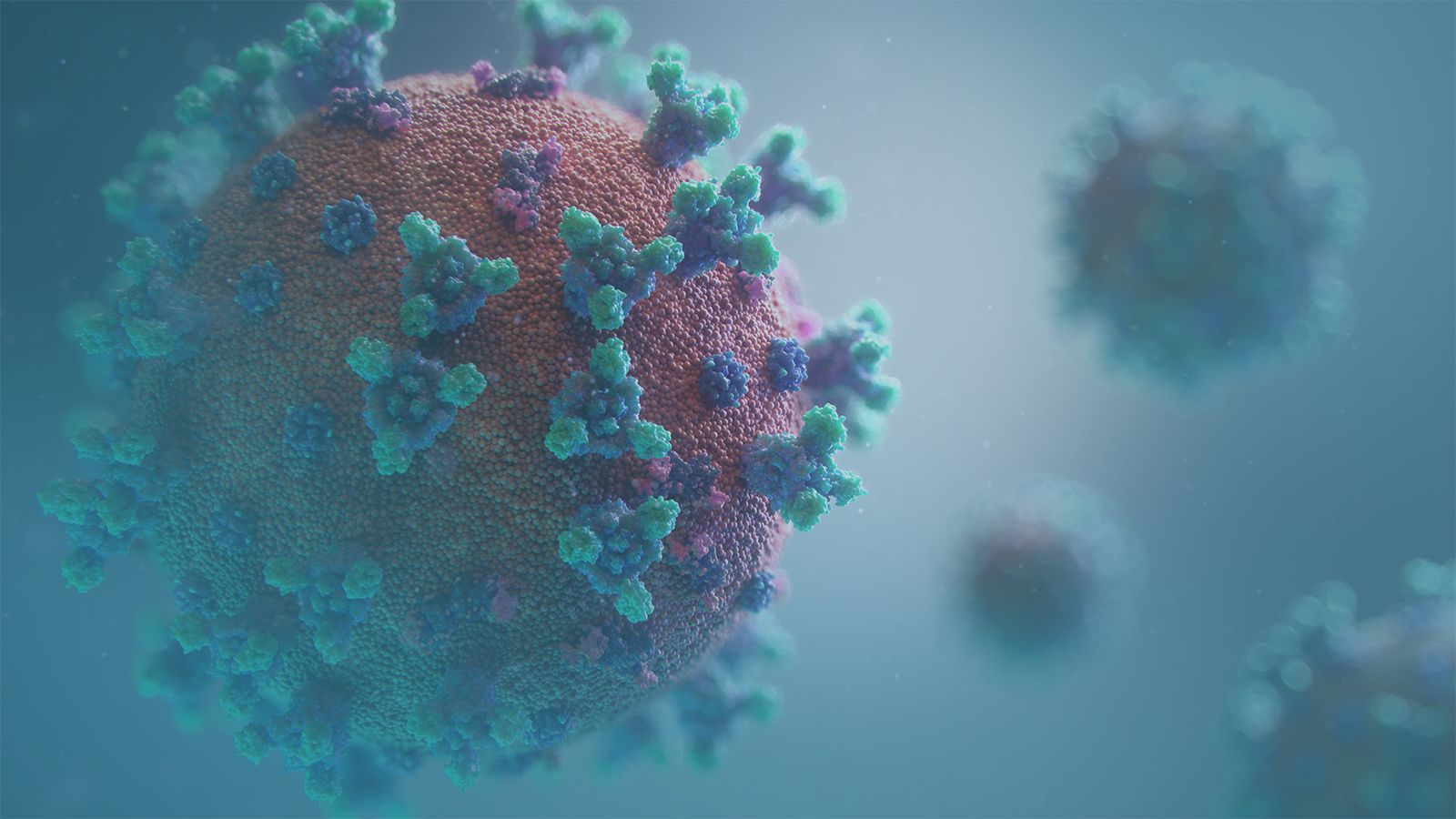 How it all began
Early in the pandemic, Malcolm and his team formed a research group to talk about what was happening and whether there was anything they could do to support the national efforts. The group looked at what was happening elsewhere around the world, the events that were taking place and what evidence there was to suggest that coronavirus was airborne.
"I knew from the very beginning our research could have an impact."
They knew they could help, they just had to find the right angle that could convince the Government to provide funding and also which government departments they would be best working with.
The group were in touch with influential individuals like Professor Cath Noakes from the University of Leeds. Professor Noakes, who studies how air moves and the infection risk associated with different ventilation systems, was invited to join the Government's Scientific Advisory Group for Emergencies (SAGE) and asked to study the transmission routes for COVID-19.
Working with many other scientists, such as our own academics at Loughborough, Professor Noakes urged governments around the world and the World Health Organisation to recognise that COVID-19 could be transmitted in tiny particles in the air, even if the risk of getting infected in this way was much smaller than the risk from larger particles that don't travel as far.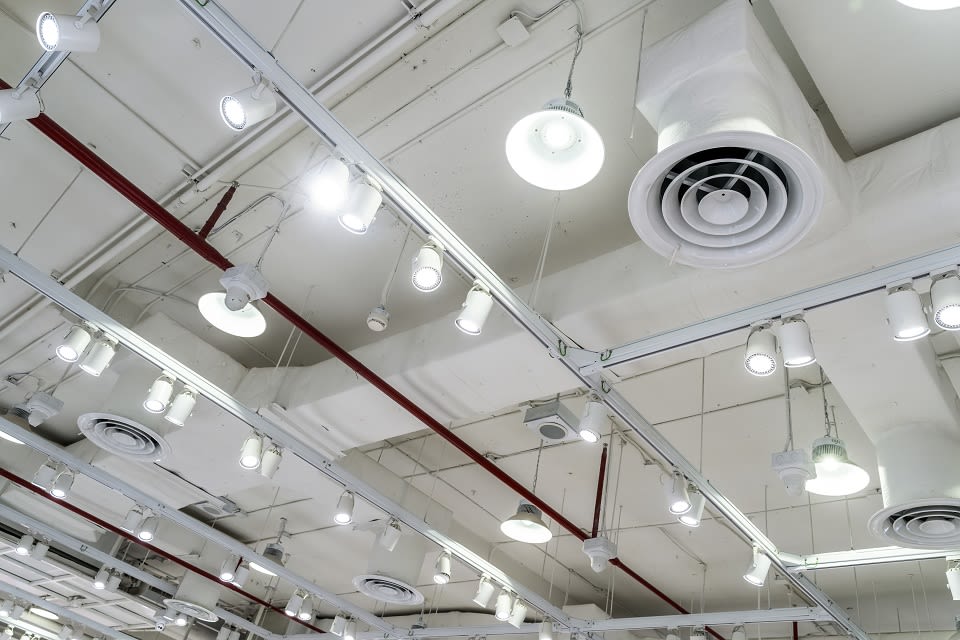 "I knew that the situation needed airflow monitoring and modelling, based on my knowledge of how air behaves and how poorly ventilated our building stock is."
Professor Malcolm Cook, Dean and Professor of Building Performance Analysis, School of Architecture, Building and Civil Engineering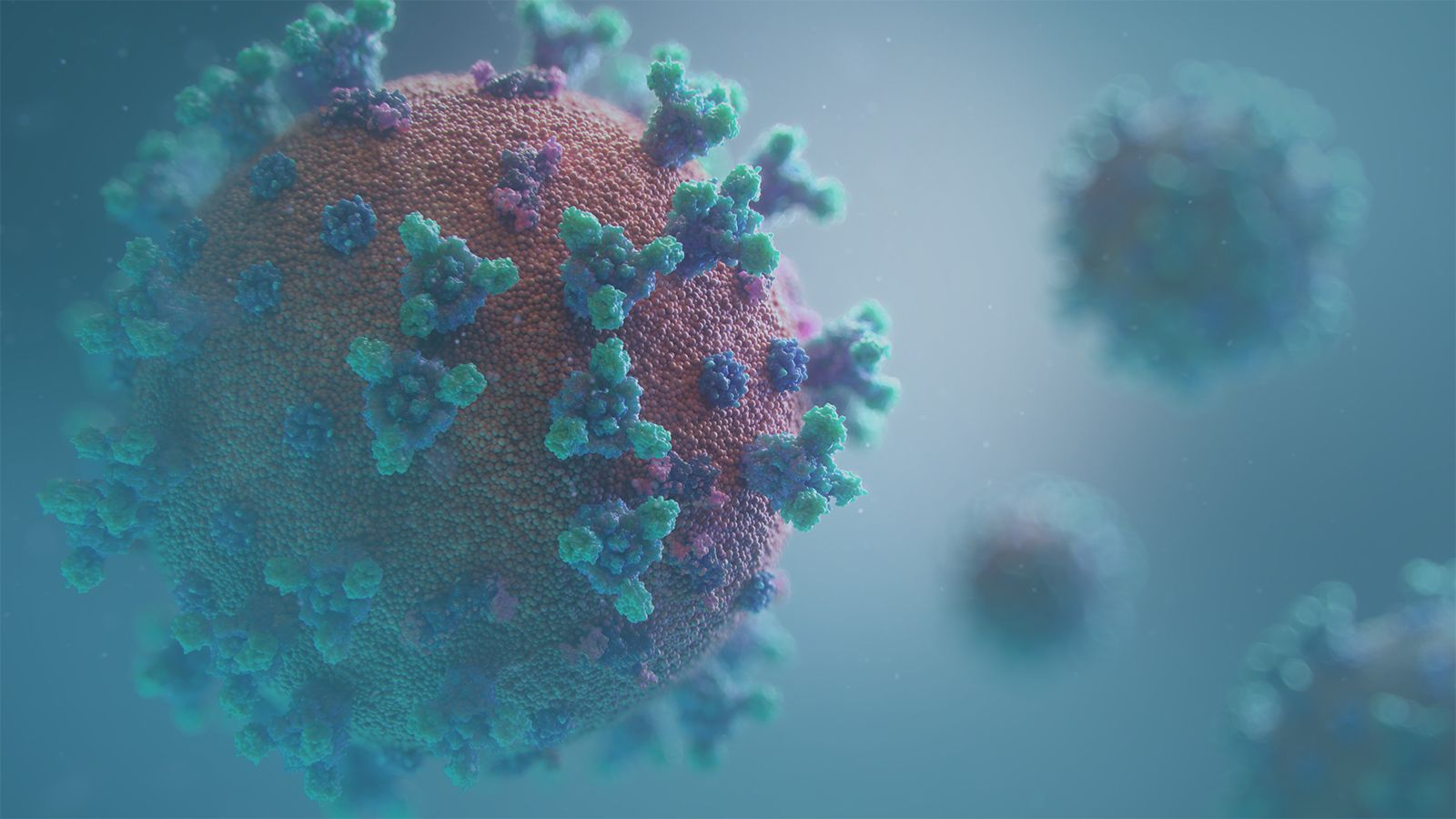 The outcome
The outcome of the project was new metrics and mathematical quantities which were used to advise the Government on how certain spaces would perform in terms of their ventilation and indoor air quality, as well as how they should be operated as society began to reopen.
Organisations from a variety of sectors were involved. Loughborough looked at the air quality, another partner carried out the COVID pre and post-testing and another group looked at people's movement. All elements of the work fed into each other to enhance the potential outcomes.
For example, one company had CCTV to look at where people were bunching at the events: problem areas such as the bar, toilets, and food outlets. They identified the areas, and Loughborough were able to match that behaviour with the quality of the air in those spaces. This then fed into the advice the University provided to the Government on how best to operate in these spaces.
Areas of impact and influence
The initial project was completed in July 2021 and the guidance that was created as a result is now being used by people in the catering industry, at sports events, cultural events, and by orchestras.
Professor Cook and his team are currently writing guidance for theatres – covering conferences, orchestral, and opera. The team are also working on computer modelling of these spaces; using what they know about the venues to predict ventilation flow rates, but most importantly ventilation flow patterns.
In relation to this, the team is also preparing journal papers based on how the modelling can be applied to other spaces that haven't been measured yet, such as GP surgeries, schools, and classrooms - specifically looking at the far field, so what happens in a classroom when there's an infected person at the front and a susceptible person at the back. This will enable the team to advise on the design of new spaces in relation to ventilation and layout as well as operations.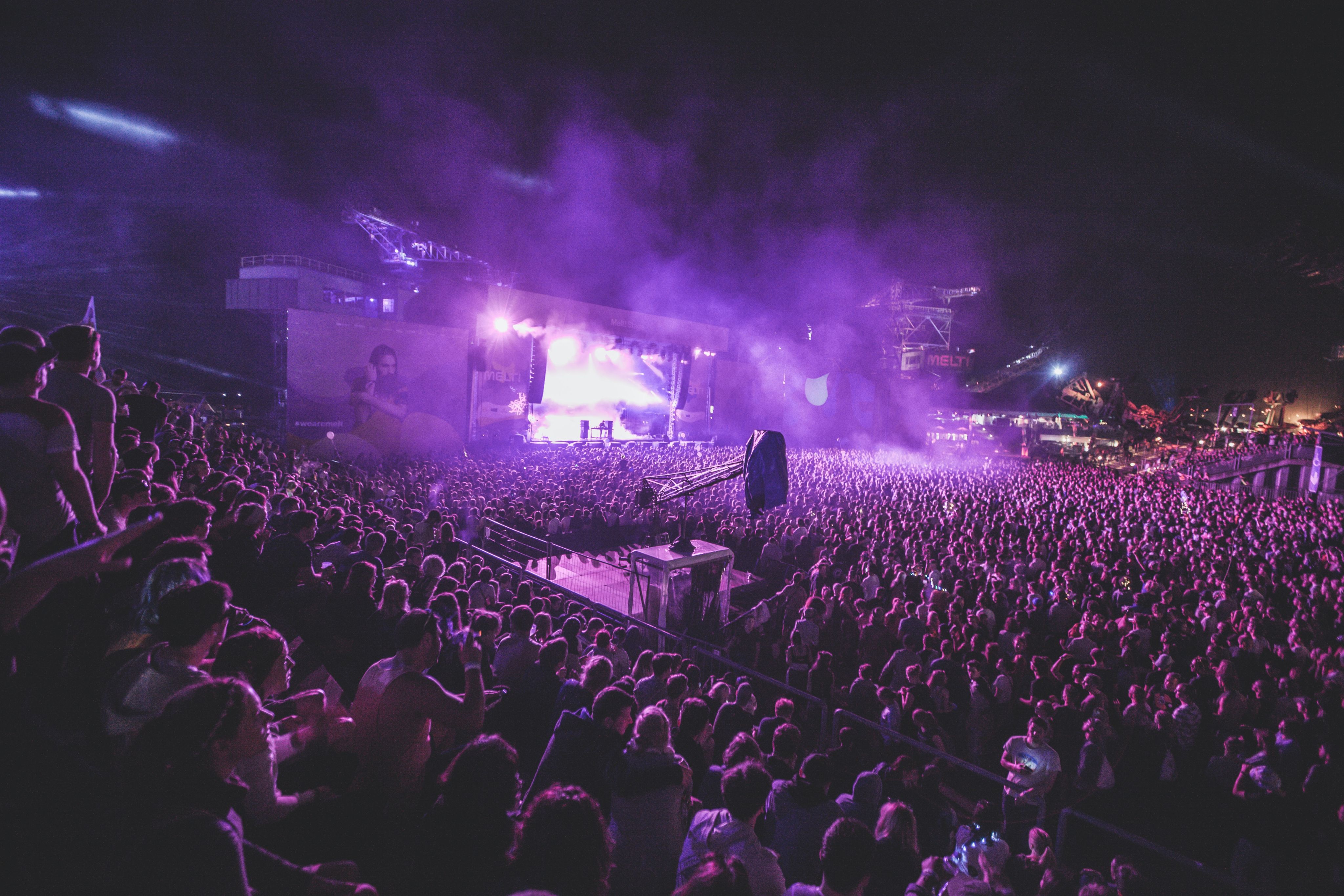 "The work we did helped to get large-scale events and venues back up and running in a safe way. The research has potential beyond just this sector though. It can be used in all non-domestic settings, including healthcare, education and retail."
Professor Malcolm Cook, Dean and Professor of Building Performance Analysis, School of Architecture, Building and Civil Engineering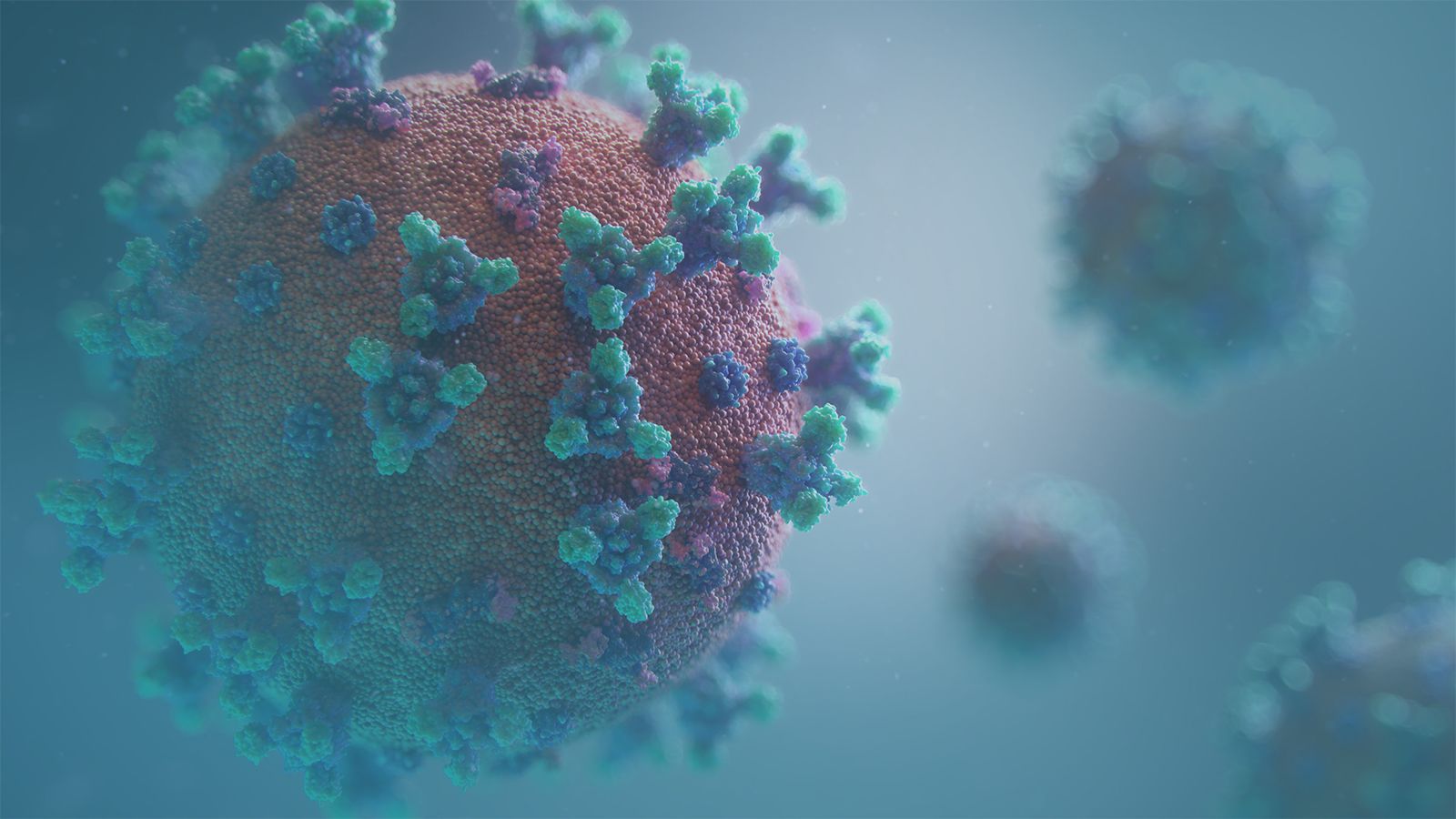 Beyond the pandemic
Work such as this during the pandemic has made the public more aware of ventilation; how it helps us and its importance in our everyday lives.
Even though life feels as though it is returning to what it once was, Professor Cook is concerned that this winter will present us with a difficult challenge because of rising energy bills. Across all settings, people will be wary of opening windows and letting heat out, putting them at risk of trapping contaminants indoors.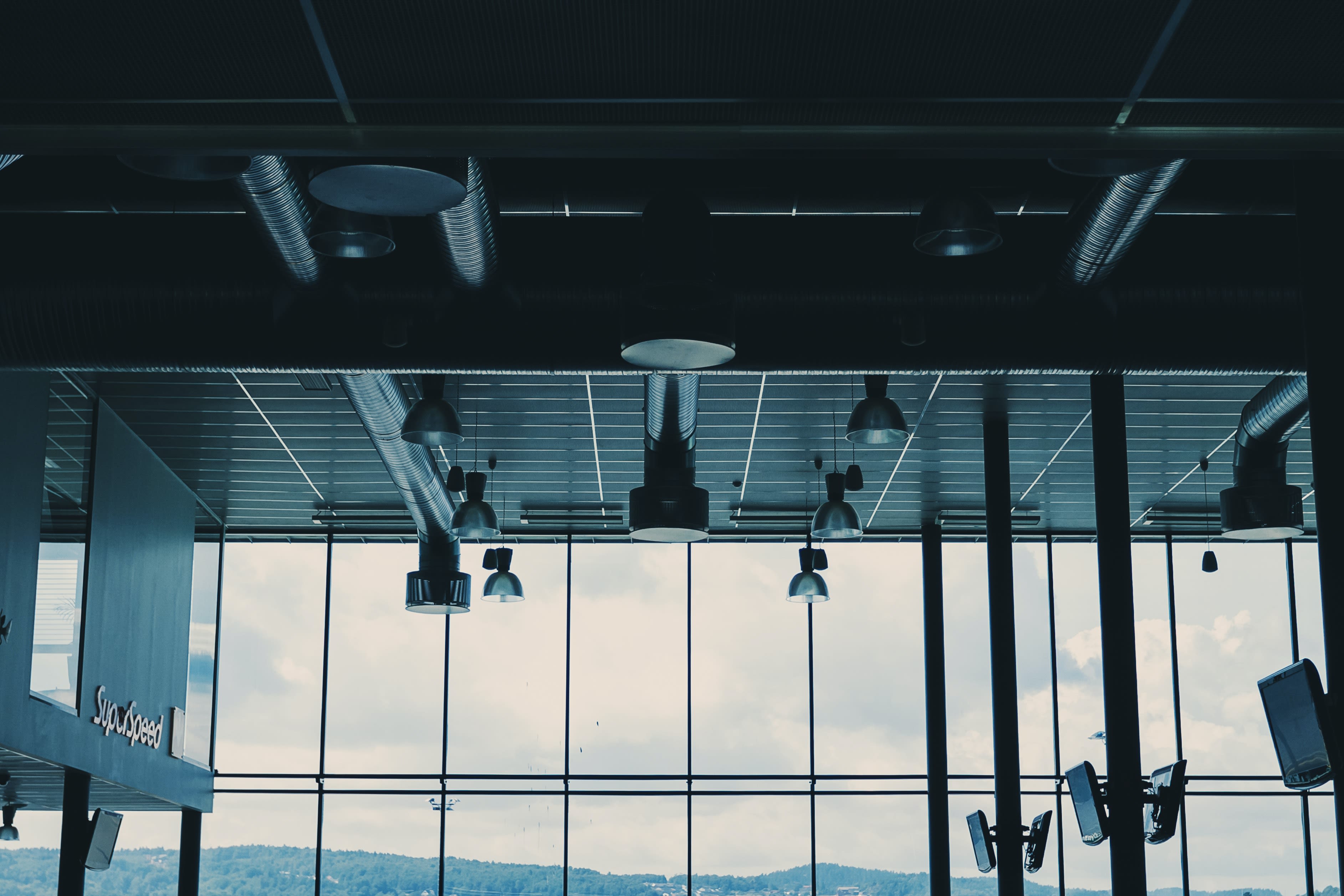 "My prediction is that people would rather close their windows and take the risk of catching something than they would pay the astronomical energy bills we are all facing. Unless we look at ventilation design, we have got a massive challenge ahead of us.
"We need to be providing some control and design advice to improve ventilation across all aspects of everyday life."
Professor Malcolm Cook, Dean and Professor of Building Performance Analysis, School of Architecture, Building and Civil Engineering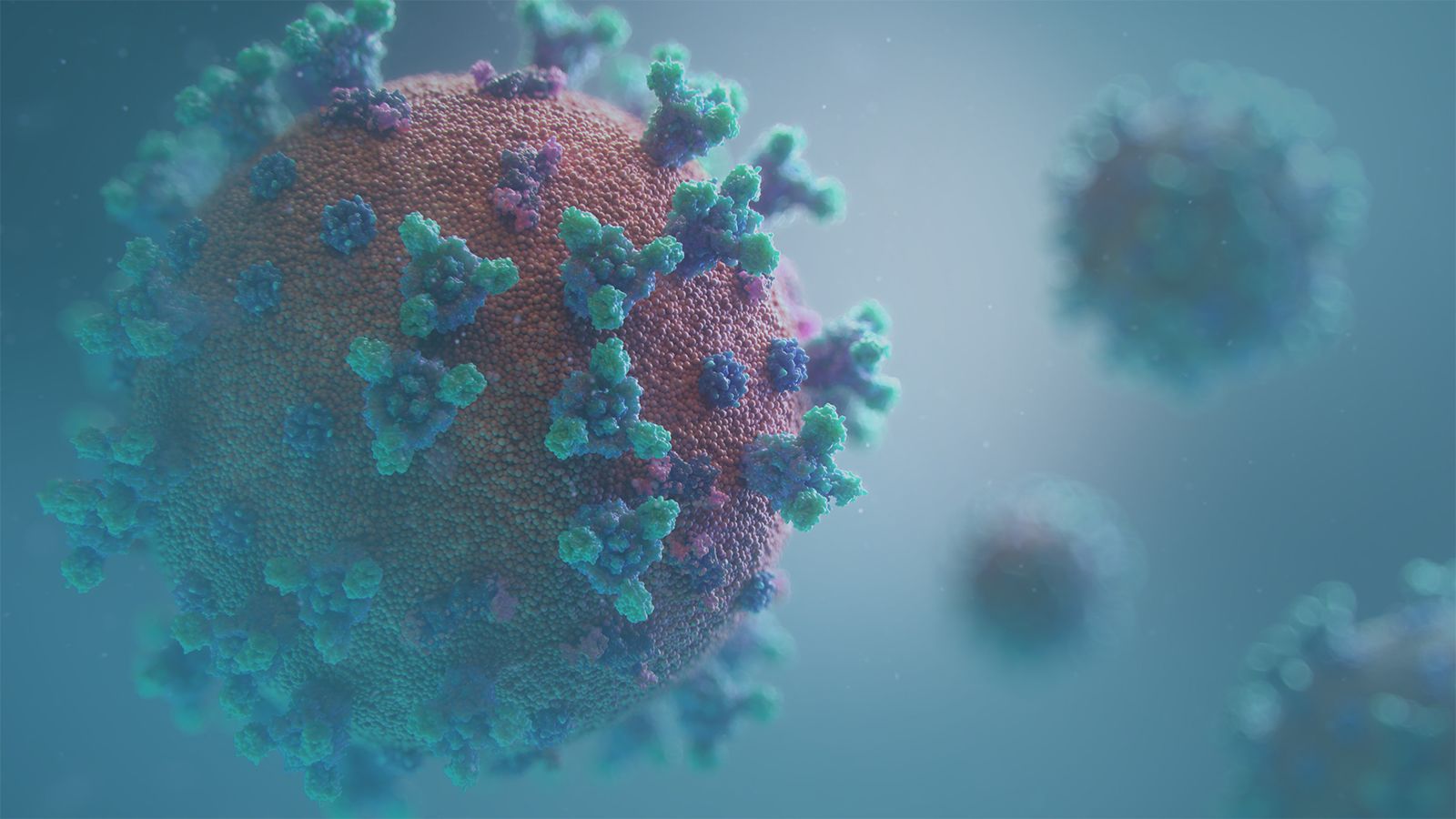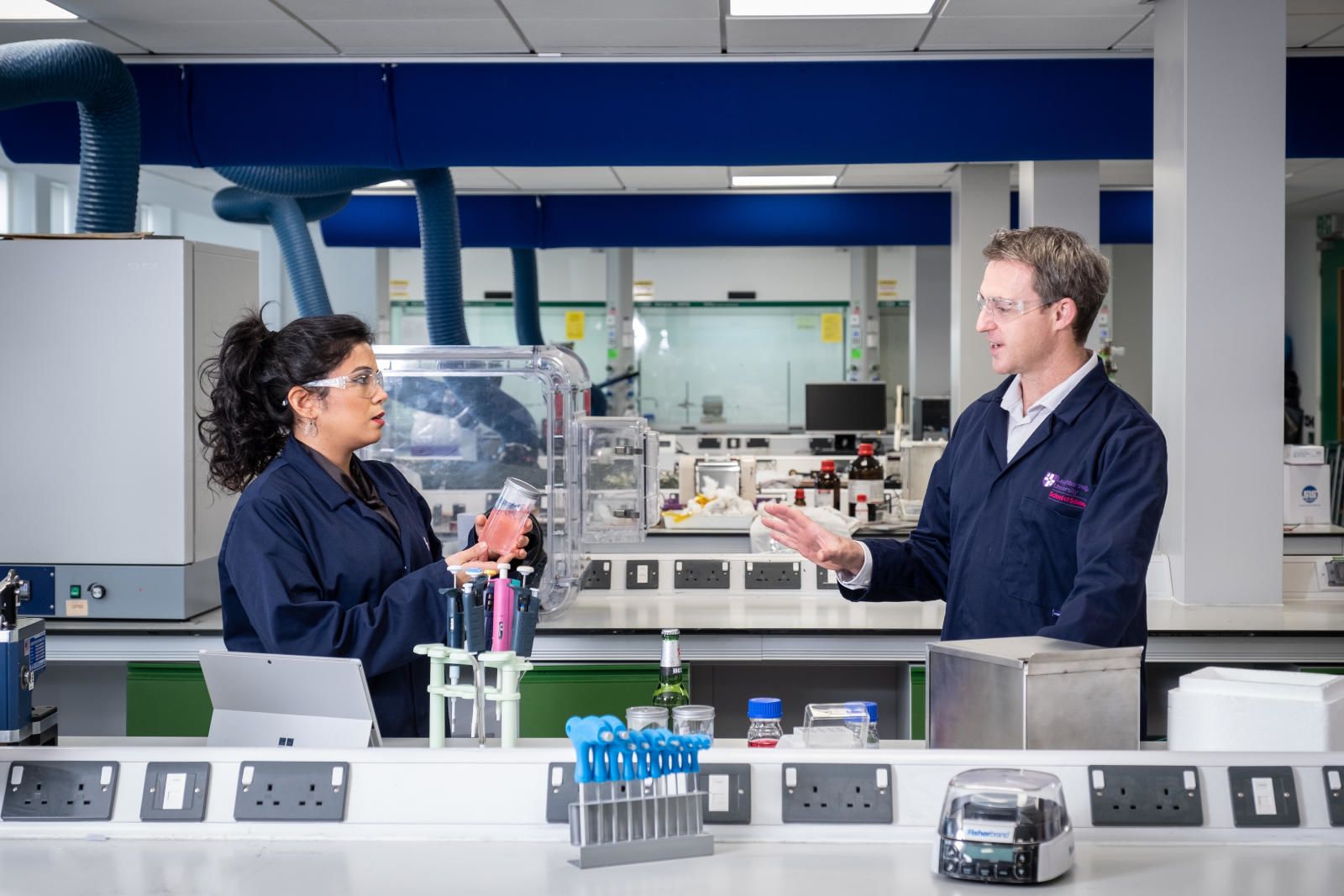 WILL IT BE OUR YEAR?
The annual THE awards, dubbed the 'Oscars' of the higher education sector, celebrate outstanding examples of best practices across a range of activities. The prestigious University of the Year award recognises an institution that has led with bold, imaginative and innovative initiatives; shown creative leadership and management, and anticipated and successfully dealt with change in the higher education system and environment.
During 2020/21, staying afloat amidst the chaos was a success for any business or organisation. Our community here at the University went beyond this. They sprang into action at the first hurdle and tackled every challenge that came their way with creativity, innovation, and bold steps, to create a positive influence that ultimately became sector-leading.
The winner of the award will be announced on 17 November 2022.